Norma Walker '51 Honored at Alzheimer's Association's VIP Wine and Cheese Gala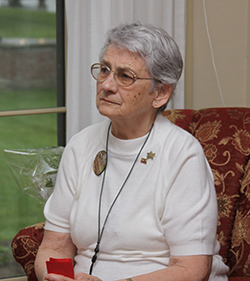 Besides being one of Keene State's most dedicated alums and the driving force behind the Golden Circle Society (alumni who graduated 50 or more years ago), Norma Walker '51 is also a committed volunteer for the local chapter of the Alzheimer's Association, which will be honoring her for "her invaluable dedication and service" at the Association's 2016 Walk to End Alzheimer's pre-event on Friday, September 16th from 5–7 p.m. at Bentley Commons at Keene (197 Water Street).
Norma has facilitated an Alzheimer's support group through Home Healthcare, Hospice & Community Services for several years, and she's an energetic fund raiser for the Association. She's hosting a yard sale at her home in Swanzey on August 6th ("We've got tons of stuff," she says), and she'll be attending a kick-off on August 9th from 6–8 p.m. at Yankee Lanes (477 Park Ave., Keene) for those who like to bowl. As she has for several years, she's organized a team for the 2016 Walk to End Alzheimer's on Sept. 17th.
"I'm hoping that someday we won't be walking to cure Alzheimer's; someday we'll be walking to prevent Alzheimer's," Norma said.
The VIP Wine & Cheese Gala is free and open to the public and offers fine food compliments of Kristin's Bistro & Bakery and Bentley Commons, a silent auction, entertainment, and special guests Jeffrey Meyers (commissioner of NH Health & Human Services) and Keene Mayor Kendall Lane. Kindly R.S.V.P. to Concierge Bonnie Moore by September 12th at 352-1282 if you'd like to attend.
Related Stories