Academic and Career Advising Link Students and Faculty Advisors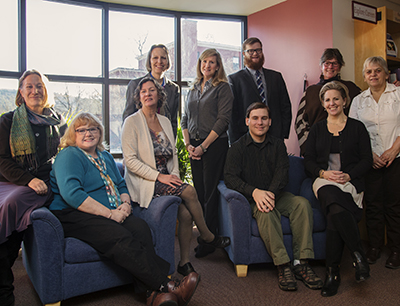 Guiding students through their academic careers and helping to prepare them for success after college are crucial services that Academic and Career Advising (ACA) provides at Keene State. ACA staff listens carefully to students' interests and academic goals to connect them with faculty advisors as soon as possible.
The fall of 2016 will be an exciting time for both ACA staff as well as incoming students. ACA staff will work more closely with students to help them identify an area of study that they want to pursue, from the beginning of their academic career. Traditionally, advisors were not assigned until a student formally declared an academic major, often well into sophomore year. Beginning this fall, students who have expressed an interest in an area of study will be assigned an advisor as part of Keene State's new advising plan.
"We're becoming more intentional about helping students pursue their interests earlier. There's this whole idea of students entering the college, oftentimes at 17 years old, with somebody else's idea of who they should be," said Pat Halloran, Keene State's director of ACA. "We focus our work on asking students to put into words who they think they are and the direction that they want to pursue. In the long run, if the student is personally invested in his or her academics, they're more likely to stay."
Parents have an important role in helping their students work toward their goals. "Parents want their students to be happy – that's the ultimate goal. The second goal is to be able to pay college debts and make a living. We are aware of that, and providing information about jobs in their field of interest is a significant piece of our work," said Halloran.
"I think this new advising plan is a way to acknowledge earlier that a student has an academic interest," said Halloran. "Parents will also appreciate that when their student is declared to a major earlier, they can do some significant academic planning from day one. This helps parents realize that their student is on track. Internships are an important part of preparing students. Staff member, Karen Balnis, has joined ACA as a dedicated internship coordinator. She, and other ACA advisors, will assist students in increasing opportunities to find jobs, internships, or relevant graduate schools."
Related Stories