Keene State's Newest Students Engage with Community from the Start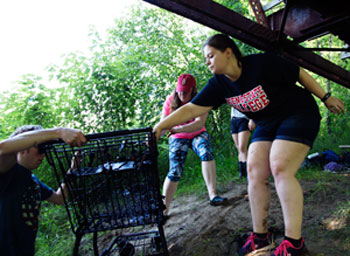 Eleven incoming first year students are starting their Keene State experience early by providing services to the Keene community this summer. The students, who participated in the Keene State PreServe program, came to campus for a week in July to provide community service, acclimate themselves to campus, and create a support network before returning in August for the start of the fall semester.
"A lot of them identified on their application that they were nervous about meeting new people, finding their way around and getting involved outside of the classroom. PreServe is the ideal opportunity for them to explore those things," said coordinator of community service, Jessica Gagne Cloutier. "They'll meet with Academic and Career Advising, Student Affairs and Involvement staff, and all of the residence directors so they'll have a group of people they can rely on and trust when they start their studies in August."
While getting familiar with campus is important, the PreServe program emphasizes learning about and serving the local community. "All of the service projects except for the river cleanup take place off campus, so our newest students meet with community partners. We also have meals and free time off campus, so they'll get to know some of the great places in the city," said Gagne Cloutier. "The program helps new students to realize that Keene State is part of the city of Keene, and that they have a place on and off campus."
"I think PreServe is a great way to get to know people. I came for Admitted Student Day and didn't want to leave. I wanted to get back here however I could," said Olivia Ladelfa of Milford, CT. "Our PreServe group got so close in the few hours we were together, by the end of the program, I imagine we'll be even closer."
Working alongside Keene State's newest students are some PreServe veterans who have returned to help usher in the new group. Sophomore Connor Haller of Goshen, NY attended PreServe in 2015 and said it had such a profound impact on his transition to college that he wanted to offer the same to new students.
"I think I got the whole awkwardness of moving in and meeting people out of the way with PreServe. Having thirty friends already on-campus when I got here was huge. I'm not social person so I loved having that network in place on move-in day," said Haller.
Related Stories