I'm Coming to Keene State: Rebecca Freitas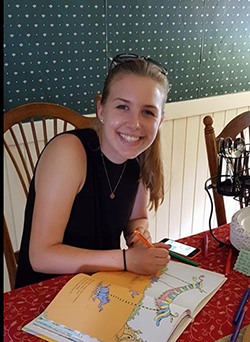 Rebecca Freitas didn't need a tour of Keene State when she came to campus for orientation earlier this summer. Freitas is not only from Keene, but got to know her way around Appian Way visiting her mother Sue, who has worked at Keene State for the past 17 years.
"It will be fun having her on campus, but I want her to experience the College like I wasn't there," said Sue Freitas, who serves as a senior information support assistant in the Admissions Office.
A high-achieving student at Keene High School where she excelled in the classroom as well as on the soccer field and track, Rebecca Freitas had numerous college options, but came to the conclusion that she didn't have to look far to find the right fit. "I love the school," she said. "The fact that Keene State was close to home wasn't a problem for me. I love the feel when you walk onto campus."
Freitas, who will live on campus in the new Living and Learning Communities for first-year students, won't have much time for visiting. In addition to majoring in athletic training, she will also be in the College's Honors Program and hopes to play on the Owls' soccer team this fall.
Freitas knows first-hand the dedication and drive that's needed to be a student athlete in college. She overcame three surgeries, including two ACL injuries, while playing soccer in high school, earning defensive MVP honors as a junior and serving as the Blackbirds' senior captain. She was also a member of KHS's Interact Club, traveling to Talnique, El Salvador, where she helped build homes.
Months and days of rehabilitation spurred an interest in science and led to her decision to major in athletic training. "I became very familiar with the recovery process and want to help other athletes going through a similar situation," she said.
Cleared to play soccer this fall, Freitas has spent the summer getting in shape. She and her family recently returned from a cruise around Italy, which included a hike of Mt. Vesuvius. "Her attitude through all the injuries was amazing," said Sue Freitas. "You never saw her down. She was always positive."
Related Stories