Education Grads Take Advantage of Special Education Master's Degree Program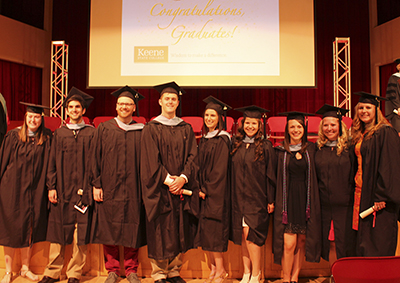 Earning her degree in elementary education from Keene State in 2015, Marissa Fuorolli decided to extend her stay on campus. Two weeks after receiving her diploma, the North Smithfield, Rhode Island, native was back in the classroom, working on her master's degree and certification in special education.
Fuorolli joins 36 students who earned masters of education degrees in four options (education leadership, school counseling, curriculum and instruction, and special education) this June. Fuorolli feels her master's degree in special education complements her undergraduate program and will make her a better teacher. "It really gave me the perspective of special education from K-12," she said. "I learned so much, and now I feel I'm ready to go out and get a job and work with students with and without disabilities."
Addressing the students during their capstone presentations in May, Rebecca Lytle, dean of Professional and Graduate Studies at Keene State, spoke about the shortage of special education teachers. "You will all have jobs when you graduate because special education is such a needed field," said Lytle, who has also worked as a special educator. "You are going into a wonderful profession."
Throughout the year, the students work on their capstone projects. Deciding on prevailing and pertinent research topics, the students do a review of literature and gather information through interviews and surveys at their internship sites.
A one-time undergraduate program at Keene State, special education became a one-year master's program in 2009, enabling students to have the best of both worlds: an undergraduate degree in early childhood, elementary, or secondary education, plus a master's in special education.
The program is intense and rigorous, but offers tremendous rewards. Students spend four days at an internship site where they are placed not only at the level they are certified, but also in other areas, to get broader experience. "That's where they really learn," said Deb Merchant, who earned both her bachelor's and master's degrees from Keene State and coordinates the special education program. "We teach them the concepts and the skills, and then they see them practiced in real-life settings."
Praise for the Program
Students completing the program give it high marks and feel better prepared to enter the classroom. "It was a fabulous program. It was so worth it to get it done in a year," said Kaleigh Cyr '15, from Sliver Lake, New Hampshire, who earned her undergraduate degree from Keene State degree in secondary education and social science.
"I felt like I learned so much about how to be a successful teacher," added Kathleen Kanaley '15, an elementary education and psychology major from Bayshore, New York. "I'm going to be teaching at a charter school in New York City in the fall and I definitely feel ready."
Success Stories
Graduates can be found in classrooms around New England. A third-grade teacher at the New Brook Elementary School in Newfane, Vermont, Nicole Plympton '12 returned to Keene State to enroll in the special education master's program in 2013-14.
Just completing her fifth year at Fuller Elementary School in Keene, Kathy Peters '10 also took advantage of the special education program, getting her master's degree in 2011. "I thought it was a wonderful program. It was very hands-on and interactive," said Peters, who continues to support the program by serving as a mentor. "It was a great experience for me, and I want to help out and contribute and teach new students."
Related Stories