Boraski Makes Olympic Trials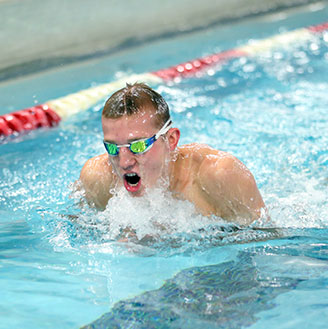 Omaha, Nebraska is not usually thought of as a summertime destination, but for rising Keene State College senior Ryan Boraski, it could be the first step toward the 2016 Summer Olympics.
Boraski, a native of North Attleboro, Mass., became the first Keene State College swimmer to reach the Olympic trials with a 23.26 finish in the 50 freestyle at Brown University on Saturday. Boraski will try to make it two-for-two when he competes in the 100 freestyle on Sunday.
A six-time All-American at Keene State, Boraski holds school records in the 100 free (44.24), 100 IM (53.06), 200 free relay, (1.21.54), 400 free relay (2.59.76), 200 medley relay (1:30.61), and 400 medley relay (3:22.19).
The Olympic trials will run from June 26 to July 3 at at CenturyLink Omaha. To reach the Olympic games, one must finish in the top two of one of 13 events. To be considered for the 4x100 and 4x200 relay teams, a swimmer must place in the top six of the 100 free and 200 free, respectively.
Related Stories