Alumnus Howell Serves as Marketing Director with Peterborough Players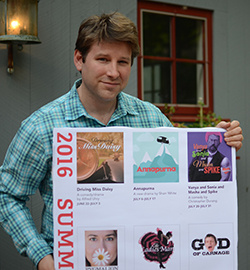 The academic year might have ended at Keene State College, but the 2016 season is just beginning for alumnus Will Howell '03 and the Peterborough Players, which has brought professional summer theatre to the Monadnock Region since 1933. Named the Marketing Director for Players in March, Howell is busy off stage getting ready for opening night on June 22.
"We do nine shows over the course of 13 weeks, so it's a pretty crazy schedule," said Howell. "We want to share the Peterborough Players experience with as many people as possible."
Howell will also be rehearsing his lines. A theatre and dance and film major at Keene State, Howell will be in the cast of one of the two children's shows that will be staged by the Players' second company this summer.
A sports enthusiast growing up in Freeport, Maine, Howell was a sophomore in high school when his soccer coach, who was also the school's drama coach, encouraged him to give acting a try. Howell began his first association with the Peterborough Players while he was still a student at Keene State, serving as a summer intern. "It was where I wanted to be and the people I wanted to be around," he said.
Keene State gave Howell a chance to not only display his focus and creativity as an actor, but also his strong baritone voice. As a junior, Professor PeggyRae Johnson added a song to his part in Selkie when she learned about Howell's voice. "Will's vocal work added to his mastery of the character," she said.
"I loved having that variety of exposure and experiences and meeting all the faculty members," said Howell. "I even got to dance."
Putting acting aside after graduation, Howell spent several years in Boston with his wife, Keene State grad Megan Elliot '03, before returning to Keene State to work in the student center. He got an unexpected call from Johnson asking him to step in for a student in a production of Rashomon.
A grateful Johnson sings the praises of Howell, calling him one of her top students in 50 years of teaching. "Will Howell is an innovator, a leader, and a dedicated ensemble player, both onstage and off-," she said. "Keene State College audiences and theatre and dance students have all benefited from his artistic integrity, collaborative energy, and dedication to the art and craft of theatre."
Howell was bitten by the theater bug again. He established and mentored students in The Group (a student organization that produced performances across campus) and performed in several plays, including a lead role in Equus, which earned him the Distinguished Performance by a Guest Artist-in-Residence award from the Kennedy Center American College Theatre Festival.
He jumped at the opportunity to join the Peterborough Players as its marketing director this spring. In addition to promoting the plays, Howell says he enjoys giving students from Keene State and the surrounding area an opportunity to break a leg as interns with the Players. "It's a fantastic way to learn and make valuable connections," he said.
Related Stories