Prof. Davisson Edits Collection Examining Digital Ethics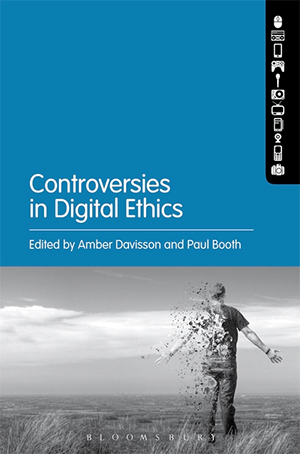 Revenge porn, creep shots, internet trolling, email scams, political misinformation – the digital age has brought a mind-boggling array of unethical behavior right to our computers and smart phones. The internet gives us easy access to powerful investigative reports as well as piles of deliberate or misguided misinformation. How do you know what's what? Obviously, it's a critical issue for communication classes to address. But when Keene State's Assistant Professor of Communication and Philosophy Amber Davisson decided to teach a class in digital ethics—a class like many being offered at colleges around the country—she ws surprised to find that there was no textbook on the subject. So she decided to draw on the expertise of several authors and create one.
"There are articles in various journals, but there was no book," she explained. "So when co-editor Paul Booth and I started collecting chapters, we wanted to develop a book for the classroom. We really focused on controversies and case studies, to spark class discussion."
The book, Controversies in Digital Ethics came out in February and explores specific controversies in today's digital world – including privacy, surveillance, identity politics, and participatory culture – to help readers navigate the thorny ethical issues in new media.
"We tried to think about the ways digital technology is used in various parts of your life," Dr. Davisson said. "A lot of the book focuses on thinking about how you use technology at work, to communicate with your friends, to meet people, to read the news. It's meant to get you thinking about all the ways technology has pervaded, or invaded, our lives."
For example, consider how technology has changed the way we do research: No more hours spent in the library pouring through volumes of The Reader's Guide to Periodical Literature or other printed resources. All that information is available instantly at the touch of keypad. "The harder part now isn't teaching students how to do research, it's teaching them how to filter it," Dr. Davisson observed. "They usually go for the first thing that pops up in an online search. So I've got to teach them to spend more time more carefully considering what they've found. In the face of so much information, we're often picking whatever we see first, instead of deciding what is the best."
As one of the book's reviewers pointed out, "This volume raises complex questions that underscore moral decisions, aiding producers and consumers of digital technologies to evaluate mediated messages. … It also recognizes the shifting power dynamic as consumers become producers of media in a world that is being rapidly transformed by participatory knowledge. As we find ourselves in situations that we could not have anticipated even a few years ago, we simultaneously confront controversies that are generated with the increased capacity to create, process, and distribute media."
Oh, and the book has also caught the attention of actor/comedian Orlando Jones. Because of his strong online interaction with his fans, he was mentioned the book's chapter on fandom. This caught his attention and he tweeted that he was reading the book.
Related Stories