I'm Coming to Keene State: Mackenzie Bennett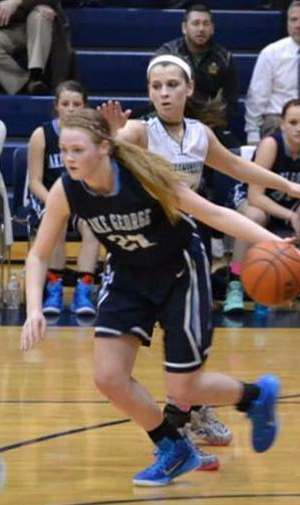 Mackenzie Bennett didn't know what number her mother Michelle Ziegler Bennett '90, a feisty front-line player for the Owls, wore during her standout four-year career (1986-90) at Keene State College. "I never thought about it until [Keene State] coach Keith Boucher called me one day and told me that he saved her number [23] for me," said Mackenzie Bennett, who just completed her own stellar scholastic career at Lake George (NY) High School and will be coming to Keene State this fall.
"I'm a very proud mother," said Michelle Bennett. "But this is her experience. I just plan on being up in the stands cheering and watching from a distance and letting her be herself."
Bennett will not only be following in the footsteps of one Keene State Hall of Fame player, but two. Her aunt Laura Bennett Kules '92 is considered the best women's basketball player in the program's history. "I'm just happy to know that Mackenzie is going to be in great hands," said Kules, Keene State's all-time leader in points and rebounds. "She's worked really hard her whole career to play college ball. I had a great experience at Keene State and I just feel like it's a great place for her."
Michelle Bennett, who married Laura Bennnett's brother Jeff, said "Mackenize always heard stories about Keene State growing up. "She knows her aunt and I were part of a great tradition of Keene State basketball and how much we value the program," she said.
Influenced by her mother and aunt to play basketball, Mackenzie Bennett set out to make a name for herself in the sport. Playing five varsity seasons at Lake George High, the four-year captain finished her career with a basket full of honors, earning multiple Section II, Adirondack League and Post Star awards. As a senior, she averaged 15.7 points per game and 7.1 rebounds per game, leading the Warriors to a 21-4 record and their first Section II title since 2005.
When it came time to decide on a college, Michelle Bennett left the decision to her daughter. "I never encouraged her directly to go to Keene State, but she naturally heard so much about it," said Michelle Bennett, who coached Mackenzie as an assistant at Lake George High. "She brought it up to me and I was thrilled. … I really think it's important that she found her own way."
Boucher, who scouted the 5-11 Bennett several times, feels she can be an impact player at Keene State. "I want Mackenzie to have a great experience," he said. "She has a great work ethic and will definitely add to the program."
Mackenzie, who describes her playing style as a combination of her mother and aunt, says she's not shying away from the challenge of following them to Keene State. "It's definitely a lot to live up to but it's going to be a nice challenge trying to do that," said Makenzie, who is considering education and criminal justice as possible majors.
Related Stories