Keene State's Dube Drafted by Baltimore Orioles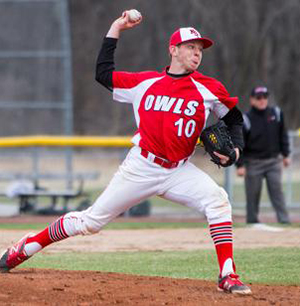 "If he continues to pitch like this he will definitely get drafted," said a scout from the Toronto Blue Jays, checking his pitching radar gun after Keene State's Cody Dube delivered a sizzling third-strike fastball for one of his 11 strikeouts in a 2-1 midseason victory against Rhode Island College.
Continuing his mound mastery the rest of the season, Dube saw the scout's predication come true Friday night when he was chosen by the Baltimore Orioles with its 10th round pick (#301 overall) in the 2016 Major League Baseball (MLB) first-year player draft. The usually reserved right-handed pitcher called it one of the best moments of his life. "I'm really happy," said Dube. "It's something I've been waiting for for a long time."
Keene State Head Coach Ken Howe, who was attending a recruiting event at UMass-Dartmouth, said his phone blew up when word got out. "I'm very excited for him. It couldn't happen to a better kid," said Howe.
Recruited as a shortstop/pitcher, Dube decided to abandon infield play following his sophomore season. "I thought I could really improve if I focused all of my energy on just pitching," he said.
Getting an opportunity to pitch summer ball with the NECBL Sanford Mainers, Dube saw his strikeouts and confidence climb. Making a commitment to pitching, a diligent Dube left no ball unturned when it came to getting better. "You can't explain in words how hard he worked," said Keene State Associate Head Coach Marty Testo. "Whether it was mental or physical, he was determined to become a better pitcher."
Success brought scouts. Over 18 professional scouts followed his every move as Dube prepared for a game in Florida against Montclair (NJ) State during spring week. "When I went to make my first pitch in the game all these guns popped up behind the plate," Dube said. "I had to take a deep breath and try to concentrate."
Under the gun as the Owls' top pitcher, Dube, who capped off his Owl career with a 15-strikeout complete game masterpiece against UMass-Dartmouth, remained unfazed by the scrutiny of the scouts. "It was never about Cody. It was always about giving his team a chance to win," said Testo.
Finishing his season with a 3-3 record in nine starts while striking out 84 batters in 67.2 innings with a sparkling 1.20 ERA, Dube did his part to impress the scouts with his numbers and accolades that included All-America, Little East and All-Region recognition. All that remained was the phone call. "There was talk I might go in the top 10 rounds, but I really had no idea," said Dube, who signed his contract on Sunday and is expected to join Baltimore's short-season Single A team in Maryland. "I'm ready for the next step."
Dube, one of just three Division III players selected in the second day of the draft, joins a short list of Keene State baseball players who have signed with major league baseball teams. Corey Vogt '11 was chosen by the Boston Red Sox in the 39th round of the 2011 MLB Draft while Shawn Barry '97 (Mets) and Eric Perrault (Diamondbacks) signed with their respective teams as free agents. Testo feels Dube has the physical tools and the right make-up to have a chance at the next level. "Cody is going to give it everything he has," said Testo. "He's blessed with a great mind, a great arm, and great work ethic. If you put those three things together you have to believe he has a chance to do something special."
Related Stories