Recent Grad Morris to Pursue a Career in Social Work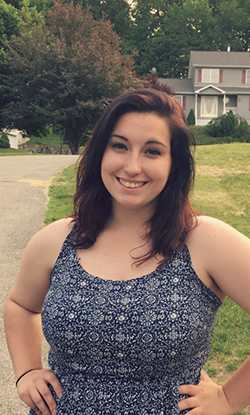 Arriving at Keene State College from her quaint hometown of Mohegan Lake, New York, Marta Morris '16 quickly learned the benefits that go with attending a small liberal arts school. The small class environment not only gave Morris a greater opportunity to ask questions and participate in class discussions, but also allowed her to form a special connection with her psychology professor, Larry Welkowitz.
"We already had a connection because I'm from New York and he did a lot of work there, but he was always there to help me," said Morris. "When I started looking for graduate schools, he recommended ones for me to apply to – he knew the programs."
Heeding Welkowitz's recommendation, Morris will be attending Fordham University's Master of Social Work program this fall, allowing her the opportunity to not only continue her education, but her job as a mental health worker at Four Winds Psychiatric Hospital in Katonah, New York.
"Marta is a great example of how persistence is often the key to success," said Welkowitz. "She told me on Day 1 that she wanted to go on to graduate school and she doggedly pursued that end. Her experience in the Applied Psychology Seminar combined with a field placement at Samaritans shaped her move toward an MSW program in New York City."
Marta's interest in social work dates back to her time at Lakeland High when she worked with children in an after-school program. Initially an education major, Morris switched to psychology so "she could advocate for people who didn't have a voice."
Marta felt that Welkowitz's classes offered students a humanistic and real-life look at issues based on his own experiences. "He always brought the curriculum to life with his experiences," she said.
In turn, Welkowitz appreciated Morris' passion for the subject. "Marta is the kind of student that professors dream of having in their classes," he said. "She is engaged and energetic and ready to talk about all sorts of ideas in psychology. She is also a great example of how hands-on experience that is connected with a class (in this case Applied Psychology) can transform a student and create important career direction."
Graduating a semester early from Keene State, Morris, who worked as a program assistant with the Samaritans last fall, has spent the past four months at Four Winds Hospital where she's made special connections with some of her patients. After earning her masters, Morris said she wants to work with children in the mental health field. "I eventually would like to open my own practice or work for a non-profit," she said. As long as I'm helping people, I will be happy."
Related Stories