Theater Alums Form Night Owl Players in NYC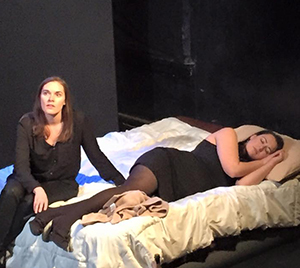 Did you know there's a thriving network of Keene State alumni in New York City, peopled with Theatre and Dance and Film majors? And two of those alums, Shanna Sartori '07 and Katelin Dickson '06, have started a theatre company, The Night Owl Players, named in honor of their alma mater.
"We chose the name because we wanted to honor our school in some way, shape, or form," Dickson explained. "Shanna and I wouldn't have met if it wasn't for KSC, and we certainly wouldn't have been prepared to leap into the great unknown of self-produced theater if it wasn't for our formal training and dedicated professors."
Dickson moved to the city in 2007, and Sartori and Jill Pettigrew '07 joined her after they graduated. "Separate from us ladies, several our friends who majored in film at KSC made the move to the city," Dickson said. "We have remained in touch and continue to be involved in each other's projects, which is really nice – it's a super supportive community."
So far, the Night Owl Players have staged The Importance of Being Earnest (Oscar Wilde, 2013 production), Sunday on The Rocks (Theresa Rebeck, 2014 production), and US Drag (Gina Gionfriddo, 2016 production). "Each performance has involved Keene State College alums, whether they were creating our promotional postcards or acting alongside us," Dickson said.
Some of the alums who pitched in on the production of US Drag included Jill Pettigrew '07 (director), Matt Braunsdorf '07 (actor), Bridget Araujo '06 (stage manager), Dave Conte '07 (designed promotional material), and Stephen Parkhurst '07 (edited fundraising video).
"Our next event will be a night of story telling which will help us raise money for another full-length production. I am hesitant to say the title yet because the pre-production hasn't been completed, but we hope to have the show open by spring of 2017 at the latest," Dickson said
Stay tuned!
Related Stories