Graf Gives Keene State Lacrosse Team a Big Assist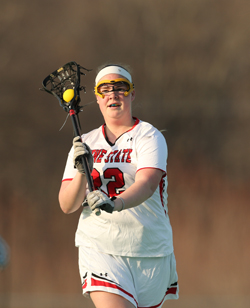 Four Keene State College women's lacrosse players missed Commencement for their Little East championship game. They graduated in a special ceremony with other athletes, and teammate Taylor Graf was there to cheer them on. "It was something I wouldn't miss for anything," said Graf, a junior elementary education/communication major from Hanover, MA. "I felt it was important for me to be there for them."
Graf has also been supporting her teammates on the field this spring, dishing out a school record 63 assists, tops in Division III along with her 3.5 assists per game average. The quarterback of Keene State's offense, Graf has at least one assist in 16 of the 18 games she has started, with 14 multiple-assist contests, including a career-high seven helpers against Southern Maine.
A team player, Graf tries to deflect the added attention and give credit to her teammates. "They are the players who are scoring the goals," she said. "I wouldn't get one assist if they didn't put the ball in the back of the net."
Although she also played field hockey and ice hockey at Hanover High, Graf, a 2012 Brine All America and two-time Patriot Ledger all scholastic player, decided that her best opportunity for a scholarship was in lacrosse. She was right. Offered a scholarship to play at Southern New Hampshire University, Graf played one season for the Penmen before transferring to Keene State. Supportive parents and a welcoming Keene State team made for a smooth transition.
Graf said that Keene State was a better fit for her on and off the field. "People might think I was crazy to give up a scholarship, but I wanted to play and I wanted to be happy," she said.
Following a transitional season that gave her an opportunity to rebuild her confidence, Graf was determined to make her presence felt on the field this spring. Keene State Coach Katie Arsenault was pleasantly surprised with Taylor's transformation. "Taylor has a real good eye for finding the open player," said Arsenault. "She really works hard to be patient and wait to make the right pass."
Taylor and her teammates have plenty to celebrate these days. Capturing the LEC Championship with an 11–8 win over rival Plymouth State, the Owls will play Castleton State in a first-round NCAA tournament game on Saturday (1 p.m.).
Enjoying the team's success, a good-natured Graf has found a home at Keene State. "I like to keep things light and I like to have fun," said Graf, who also scored 16 goals and was named to the All-LEC second team. "My favorite part about being on a team is the camaraderie, and that's the reason why I play. It's like I have 19 sisters with me all of the time. Everyone really cares about each other, and you can't say that for many teams."
Related Stories