Men's and Women's Lacrosse Returning to NCAA Tournament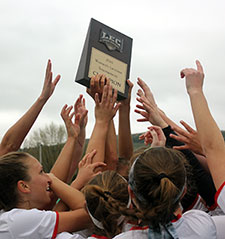 he Keene State College men's and women's lacrosse teams are returning to the NCAA tournament. The Owl men defeated Eastern Connecticut State, 22–8, on Saturday in the Little East Conference Championship game at Owl Athletic Complex, while the women toppled Plymouth State, 11–8 earlier that day.
In addition to tournament Most Outstanding Player Tyler Reilly's seven goals, Keene State got four from Tyler McKelvie, and three each from Rob Hart and Hunter Arnold. James Dowd added two more goals, as did Bryan Rotatori. Reilly and Paul Beling both passed out two assists. Mathew Howe played the first three quarters and made nine saves. Alex Sharp came on for the final period and made five stops.
The Owls, who are making their third straight trip to the NCAA tournament, will host Montclair State in the opening round at Owl Athletic Complex on May 11 at 6 p.m.
The KSC women got five goals from freshman Samantha Ballard, who was named the tournament's Most Outstanding Player. It's the second straight NCAA appearance for KSC, and fifth overall.
Junior Taylor Graf had three assists, breaking the single season record for helpers set by Lauren Sawyer in 2010. Graf now has 63 this season. Kaitlin Nolan had three goals and two assists, and Taylor Farland had a pair of goals. Alison Argiro had eight saves in the KSC net.
Keene State will face Castleton University on May 14 at 1 p.m. on the campus of SUNY Cortland. The winner will play the host Red Dragons the next day.
Related Stories