Brattleboro Fifth Graders Visit Keene State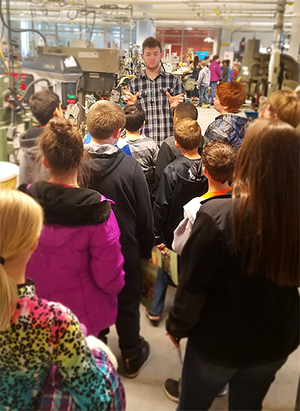 "It's never too early to start thinking about college," says Andy Paciulli, the principal of Academy Elementary School in Brattleboro, Vermont.
Known for his innovative approaches to education, Paciulli has been sending his students on a field trip to Keene State College the past three years. "Going to college is a foreign idea for many of our students," said Paciulli, who was the 2013 Vermont Elementary Principal of the Year. "We're trying to instill in them, if they work hard, they could go to college."
"This is the kind of thing that excites them and makes them believe that they can go to college," said School Counselor Judith Palmeri, who earned her master's degree in educational counseling from Keene State in 1984 and teamed up with Paciulli to organize the trip. "We felt that if we can get them while they are young and plant that seed that we would be doing them a service, especially for first-generation kids whose parents never went to college."
Paciulli gets all his students thinking about college as soon as they come through the school door. In the hallway of the school is a huge bulletin board that displays the college degrees of Academy teachers as well as a wide assortment of pennants and memorabilia from colleges around the country, including Keene State.
Paciulli, Palmeri, and 53 fifth graders and their teachers made their annual trip to Keene State earlier this semester. With the help of Keene State admissions officer Carrie Holmes, the entourage (including Marissa Fuoroli '15 and Micaela Chouinard '15, recent Keene State grads and master's degree candidates in special education) was treated to a tour of the campus.
The highlight of the trip for the students was a visit to the College's TDS Center. "They saw the drawings and the 3-D printer and they were spellbound," said Paciulli. "It really captures their imagination."
The dining commons was also a big hit. "They felt like grown-ups, going to each station and making their own food choices," said Palmeri. "One little boy in the cafeteria came up to me and told me it was the best day of his life."
Palmeri says the trip to Keene State has already had an impact on the students. "I'll talk to kids a few years later and they will remember the trip, and some of the younger ones say they're really looking forward to it," she said. "So it's been a great experience, and I think the students get a lot out of it."
The two other elementary schools in Brattleboro have followed Academy's lead. Students from Oak Grove School have visited Keene State the past two years, while the Green State School plans on joining the program next spring.
Related Stories