Liberal Arts Help Students Pursue Two Passions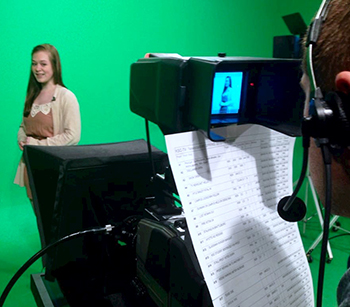 Allie Baker was confronted with a quandary. The Keene State College senior from Littleton, New Hampshire, had to decide whether to attend the journalism department's award ceremony or make the annual art majors' trip to New York City. Her two loves pulled her in two different directions on that day.
Baker, who opted for the trip instead of attending the ceremony, where she was the recipient of the department's videographer of the year award, knows a thing or two about balancing a hectic schedule and finding time to pursue dueling passions.
While the schedule didn't work in her favor that day, Baker, who is majoring in journalism and minoring in studio art, was able to combine her two loves in an independent study and series of three stories for KSC-TV, exploring what it means to be an artist in the Monadnock region. Working with her advisor, Chad Nye, an associate professor of journalism at the College, Baker was not only able to create a hybrid between her major and minor but also put together some stories suitable for her resumé reel.
Baker said the project was an enjoyable learning experience. "I was able to draw on my journalism skills by telling a story, but also take advantage of my art background," she said. "Because the subject matter was art, I was able to explore alternative ways of telling the story with artsier shots, fades, and transitions that you really can't do in a regular news story."
Nye, who refers to journalism "as liberal arts in action" because of the need for journalists to be able to cover a wide variety of subjects and stories, feels Baker's project is a fine example of how a student with an arts minor and a journalism major can put together a series that combines both interests. "I'm really looking forward to trying this more in the future and I think Allie is a great way to kick it off," he said.
"I was very fortunate to find two things that I love and pursue both of them," said Baker, who is considering several options in both fields after graduating. "I definitely see it as a growing experience and couldn't be any happier with the way things ended up."
Related Stories