Keene State College Celebrates Class of 2016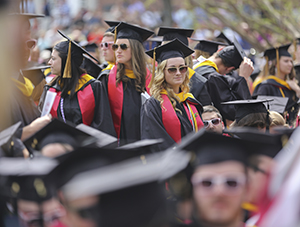 Keene State College will award 975 undergraduate degrees to 960 graduates in the Class of 2016 during its commencement ceremony this year. Forty graduate degrees will also be conferred. The graduates hold promising futures as they pursue their post-graduate plans, which include working toward a master's degree in exercise and sport psychology at Minnesota State University, interning in Bosnia for year with the Center for Peace-building in Sanski Most, working for Phoenix House Transitional Living for Women in Recovery, pursuing a master's in English Literature at Iowa State University, among many others. The College's commencement ceremony will be held on Saturday, May 7 at 1 p.m. on Fiske Quad. Alumnus and nationally recognized author, and this year's honorary doctor of humane letters recipient, William Marvel, will address the Class of 2016, as will Tedd Benson, this year's Granite State Award recipient.
"Congratulations to the Class of 2016. We are thrilled to welcome everyone in this year's class into our network of more than 30,000 alumni," said Keene State College President Dr. Anne E. Huot. "Throughout their time at Keene State College, these graduates have enriched communities through service to local, regional, national, and global communities. During their college career, they have pursued research opportunities, cultivated new experiences through hands-on learning, and connected with a tremendous support system available to them through our dedicated faculty and staff. This year's graduates take with them deep connections to the entire college community, their fellow students and the Keene community."
For more detail about the post-graduate pursuits of Keene State's Class of 2016, see "The Future is Bright for Class of '16".
Honorary Doctor of Humane Letters
William Marvel is recognized with the honorary doctor of humane letters for his remarkable contributions to informing the public about our country's history – in particular, the Civil War. He received many nominations for this recognition, including one from the Cheshire County Historical Society, which said that his "work has added immeasurably to our understanding of the role of this momentous event in American history. His meticulous research and engaging writing style have made his works important additions to the large body of publications about the War."
Granite State Award
Tedd Benson is selected to receive the 2016 Granite State Award. This award is in recognition of his influence on craftsmanship in construction in New Hampshire, the economic growth that has been spurred by his innovative business model, and his role as an active community member. Mr. Benson also received many nominations, one of which was from Governor Maggie Hassan. In her nomination for Mr. Benson, Governor Hassan said, "Tedd truly represents what the Granite State Award was created to recognize – significant, long-lasting contributions that make our state stronger. He has led the way in best building practices, he has been recognized nationally, and he continues to expand his mission and his business in New Hampshire. I am grateful that Tedd chose the Granite State to build his business and believe that this award is a fitting way to recognize his work."
For more information about this year's Commencement program, visit our Commencement page.
Related Stories