Sports Journalism Students go to Fenway Park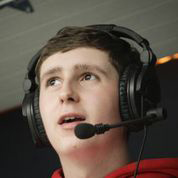 Keene State College students got to see more than a ball game when they went to Fenway Park last semester. Students in Dr. Chad Nye's TV Sports Journalism class attended the Red Sox's inaugural Journalism Night where they were able to listen to representatives from three (Red Sox, Patriots, and Celtics) of Boston's four professional teams, and heard media professionals tell how they broke into the business and offer advice for the aspiring sports journalists.
Nye said the event underscores the prominence of the field in the Northeast. "I think it recognizes that sports media is its own media juggernaut," said Nye, an associate professor of journalism at Keene State. "Sports used to be the toy department of newspaper or television stations, but now the interest has taken off," he said.
The Keene State students learned that many of the team and media professionals had followed similar career paths. "It's funny. You see these people on TV and you wonder how they got there," said Connor Smith, a senior journalism major from Everett, Massachusetts. "They tell you their story, and you find out you have a similar story. Hopefully I can be just like them and do something I love."
Mike Miezejeski, a junior journalism major from Ivoryton, Connecticut, was inspired to learn that one of the panel members also attended a small Division III college, while Savanna Balkun, a junior journalism major from West Hartford, was surprised to find out about the high demand for women in the sports media field. "That really stuck with me," she said.
Keene State students are well prepared to enter the highly competitive field. Members of the broadcasting class are assigned sports beats around the area where they tape highlights and put together packages for KSC TV. Brian Clemmenson, a senior journalism/public relations major from Stanford, Connecticut, and Miezejeski have added to their impressive resumes by broadcasting Keene State athletic events and summer league baseball games. Smith will also get experience this summer serving as an intern at WHDH TV in Boston.
"It was a great decision for me to come to Keene State," said Clemmenson, who has become the voice of Owl sports the past few years. "If I went to a bigger school, I would never have the opportunity to broadcast so many games."
Clemmenson is currently under consideration to become the play-by-play announcer this summer with the Connecticut Tigers, a minor league affiliate of the Detroit Tigers, located in Norwich, Connecticut.
Related Stories