Cartamundi East Longmeadow Partners with Safety Studies Capstone Students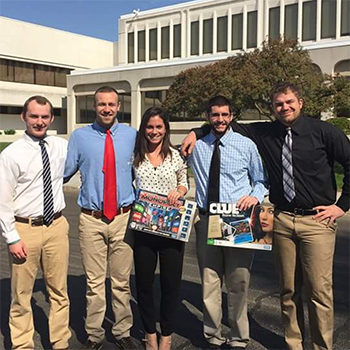 A couple of years ago, Jack Popp, Vice President of Technical Services at Cartamundi's East Longmeadow, Mass., manufacturing facility (which the Belgium-based company recently purchased from Hasbro), attended an open house celebrating the anniversary of Keene State's Safety and Occupational Health Applied Science program. He realized that the company's vertically integrated factory with 9 Core processes could support safety-student experiences and offered to work with students and provide them on-the-job experience through their capstone course. With the Hasbro acquisition, Cartamundi is the world leader in playing cards, collectible sports cards, and board games.
"Jack is a safety champion who has been a leader in demonstrating how to develop strong safety programs," said David May, associate professor of Safety and Occupational Health Applied Sciences. "Cartamundi has been recognized by OSHA as a corporate safety leader though their VPP program. … The capstone experience was a great opportunity for our students to witness how a top-notch company operates its safety and health program."
So far, the teams have completed two projects at Cartamundi: a noise survey and a machine-guarding survey. "The students were able to experience what an OSHA VPP STAR facility and world-class manufacturing environment focused on Operational Excellence is," Popp explained. "The project work completed by the capstone students enabled our facility, in our interest of continuous improvement, to use 'a different set of eyes' than our own, and allowed us to forego hiring an external consultant for the noise monitoring.
"The teams' report out presentations to our senior management team were well done, and gave the students the opportunity to showcase their project work, their technical knowledge, their presentation skills, and their communication skills during the Q&A following the presentation," Popp said.
"The projects also gave our seasoned East Longmeadow SH&E team members the opportunity to do mentoring, coaching, and sharing of our best practices in not only safety and industrial hygiene but in all aspects of operational excellence and world-class manufacturing. Additionally, we were pleased that we could donate Pallet Pal ergo lift equipment to Keene State for use in its safety labs."
Popp praised the Keene State students' professional and courteous interaction, and definitely left the door wide open for further collaboration. "Based on our very positive experiences to date with David May and the Keene State capstone projects, our Cartamundi East Longmeadow senior management team would absolutely support partnering with the KSC program again. It was a win-win, value-added initiative for both organizations."
Related Stories