Thorne Gallery Announces Student Winner of People's Choice Award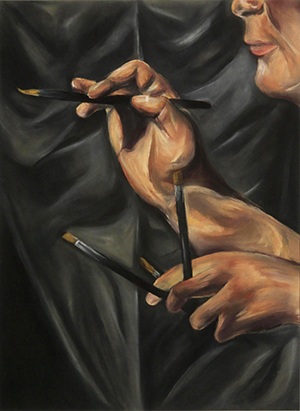 Keene State College's Thorne-Sagendorph Art Gallery is currently displaying works created by Keene State seniors who have earned a Bachelor of Fine Arts or Bachelor of Arts in its Emerging Art Exhibition. Gallery visitors were asked to cast votes for their favorite artist to receive this year's People's Choice Commendation Award. The Thorne Gallery is proud to announce the winner, Janelle Dragon of Keene, NH. A total of 220 votes were cast. The last day of the exhibit is Saturday, May 7.
During Dragon's time at Keene State, her grandmother passed away. In describing the inspiration for her work, Dragon said that in order to "create a narrative that would best describe the lessons and values I have absorbed since my grandmother's passing, I found that working in the pastels medium was entirely important. In order to work with pastels, you must acquire the skills to blend and layer an array of colors in order to achieve the desired look and full range of values. Working with pastels one can achieve a distinct and almost unfinished quality about the subject, which I found to be most useful whilst creating this narrative. One's memory of the past is ambiguous or vague. The dream-like imagery of my work reconstructs certain objects that symbolize my grandmother's life."
"Congratulations to Janelle—her work is truly inspiring and touching. I am proud that she could skillfully apply her life experience to her art to convey deeply held feelings and memories. I thank the many patrons of the gallery who viewed our student exhibit. Being there is meaningful for the students as they begin their careers outside the classroom," said Lynn Richardson, associate professor of Art at Keene State College.
Related Stories