Student Voice: Don't Miss Out—Faculty Are Important Resources for Internships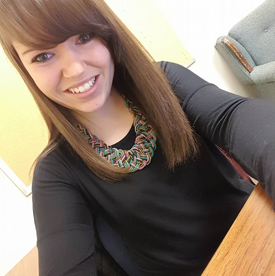 I entered my senior year with the knowledge that I needed to do an internship prior to my upcoming graduation. Because I had changed my major to communication studies in the fall of my junior year, I had not been in the department long; however, I was determined to get the most out of my time as an undergraduate. So I came back to school with the goal of getting an internship.
As the year began, I received an email from my advisor, Dr. Chitra Akkoor of the Communications and Philosophy Department, about internship opportunities, and I accepted two positions.
I realized then what a great resource I had in my advisor. I met with Dr. Akkoor later that week, and left the meeting feeling much more prepared for what the coming academic year had in store for me. Dr. Akkoor had explained to me that she was in the process of developing a course to supplement the internship experience for students, making their skills and experiences more tangible. "This course falls in line with the goals of the college as well," said Dr. Akkoor, "as this is the direction that the college is headed in for all of its students."
Dr. Akkoor has always sought a real-world application for concepts in her course, and said that this course has allowed her to have just that. "This isn't just a course," said Akkoor. "I'm making a lot of connections in the community, and encouraging my students to do the same."
Students in the course have also seen the value the course adds to the internship experience. In the words of Cecily Macari, a Keene State junior, "It's not just a job. We go back to class, and we get to discuss it in class, and we get to hear different experiences from our peers."
Sarah Lennon, also a junior, said of the course that, "it adds another dimension to the internship experience." She enjoys observing the theories and concepts that she learns in class come to life at her internship site. According to Dr. Akkoor, "how to observe is a skill in and of itself." The course has taught the students to observe everything going on around them rather than just their individual responsibilities.
Katelyn Newcomb, a Keene State senior, says that the course has really helped her get the most out of her internship. "She makes us think about what we did that day," said Newcomb, "especially about what new skills I'm learning."
The importance of connection and networking has been a focal point of the course. "You're doing one internship, but getting 15 experiences," she said. "It's a great collaboration, and the students are learning a lot."
—by Michelle Green, Spanish and Communication Studies major and intern with Keene State's Marketing and Communications Department
Related Stories