Students Collaborate on Children's Book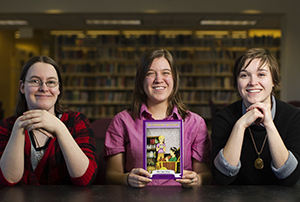 Do you remember your favorite bedtime stories? A Keene State junior who writes under the pen name Margaret Ellis Raymond certainly won't forget the turn-out-the-light tales she told while working as a nanny for a young three-year-old child back home in Portland, Maine – because she's published them.
Raymond decided to record and then write the magical stories that came off the top of her head. The Buttercup Adventures (Vol. 1) – The Glass Frog is the first of a series of five books she can now share with children around the world.
Promising a bedtime story to a rambunctious child calls for ingenuity. "She was looking at me with those big doe eyes and I said, 'Oh my gosh, what do I do?' And a weird story spilled from my lips, and that was the first chapter," said Raymond, a psychology major with a minor in writing.
Needing help to bring Buttercup (a princess and the main character of the book) alive, Raymond collaborated with a couple of her classmates from Keene State. Liesl Miller, an English major from Plymouth, NH, was brought on to edit the book, while Amanda Coakley from Tewksbury, MA, who recently was accepted into the College's Bachelor of Fine Arts program in studio art, came aboard as the illustrator.
Living in the same dorm as freshmen, they turned a friendship into a passionate project that brought out the best in each contributor.
Overcoming a challenge with reading as a young child, Raymond wrote her first book in sixth grade. "I was reading a bad book and I said, 'I could do better,'" she said.
From there Raymond knew writing was always going to be a part of her life. She credits Keene State English faculty members Kirsti Sandy, Brinda Charry, and Jeff Friedman for refining her skills and polishing her work.
Miller, who also took Friedman's creative writing course, says she has enjoyed her exchanges with Raymond. "I thought about being an editor at some point in my life, so this was a very good experience," she said.
Drawn to Keene State by its strong art department, Coakley, with help from Professor Rosemarie Bernardi, was able to take her drawing skills to a higher and more formal level. After conferring with Raymond about character descriptions, Coakley went to work. "I had never done anything like this before and didn't know the exact process, but I figured it out," said Coakley, who has had her work displayed in several student shows on campus.
Raymond also got a crash course on the production side of publishing and marketing. Raymond, who self-published, said the entire process took over a year before she saw the book in its final form. "I think it really hit me when I walked into a bookstore and saw my book," she said. "I can't believe I did it."
The book is available on Amazon and Ingram (an online wholesale distributor of books) as well as at bookstores and libraries in Portland and Keene, including the Keene Public Library and Keene State's Mason Library.
Related Stories