Keene State Alum Verdi Named Head Women's Basketball Coach at UMass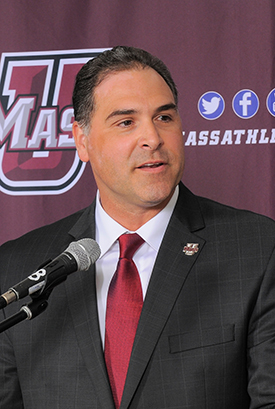 Anyone who watched Tory Verdi '96 during his four-year career (1992–96) playing for the Keene State College men's basketball team knows he had an unyielding desire to win. Although victories were few for a Keene State program that was transitioning from a Division II to a Division III at the time, Verdi enjoyed the challenge of going up against some of the top teams in the country.
Verdi will utilize the same drive and determination at the University of Massachusetts-Amherst where he was recently named head women's basketball coach. "It's just about out-working your opponent," said Verdi, who averaged 12 points and 8.2 rebounds per game as a junior for the Owls. "It takes a lot of time and effort but when you love something—it's not work to me."
Ready to accept the next challenge in his coaching career, Verdi takes over a UMass program that has struggled on the court. However, the New Britain, CT, native feels he's the right person at the right time to turn the team around, calling the program "a sleeping giant."
"I'm a visionary. I want to do something that has never been done before," he said. "My goal is to be a top-25 team and there's no reason why we can't do that."
Verdi speaks fondly on his playing days at Keene State and the guidance he got on and off the court that helped mold him as a coach. "I remember so many people there that helped me on the athletic side but also on the academic side as well," said Verdi, who was an elementary education major at KSC. "That is something that has stayed with me. I invested myself in our student athletes, and I try to do everything I can to positively affect them."
Verdi's ability to not only coach, but communicate with his players has translated to a tremendous track record on the court. During his 19-year coaching career that began in the professional ranks with the WNBA Connecticut Sun and included collegiate stops as an assistant at the University of Nebraska and Kansas and, most recently, a four-year stint as head coach at Eastern Michigan University, Verdi has directed his teams to post-season play 13 out of the last 15 seasons since 2001–02.
A power forward for the Owls who once scored 22 points against national power New Hampshire College and pulled down a career-high 17 rebounds in a game against the University of New Haven, an enthusiastic Verdi relishes the role of underdog and the challenge of reviving the women's basketball program at UMass. "This is my love and I've committed to it," he said. "I have a great opportunity here at UMass and I'm going to do everything possible to move this program forward and put it in a position where it's never been before."
Related Stories