Pakistani Student Spending a Semester at Keene State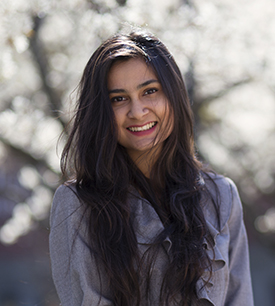 December is Wedding Season in Pakistan and, like many women across the country, Aman Halani decided to get married—a traditionally long celebration that can last for about a week. However, the 25-year old Halani and her husband had little time to celebrate. Fifteen days after tying the knot, Halani was on her way to Keene State College to take classes this semester.
Over 6,000 candidates from her country applied to the Global Undergraduate Exchange Program, which provides one-semester scholarships to outstanding undergraduate students from around the world. An art major working on her bachelor's degree in textile design from Iqra University located in her hometown of Karachi, Halani was one of just 120 students selected to the prestigious program run by the US State Department.
"Having a student like Aman on campus just adds so much to Keene State," said Steven Spiegel, associate director of the College's Global Education Office. "It's beneficial for the college community to be exposed to different students and different cultures. It not only is interesting and stimulating for our students, but it also fosters understanding and points out that there are different ways of doing things."
Halani said she is enjoying her classes at Keene State and educating people about her country. "I had a different mindset about Americans before I came here," said Halani, who attended a private school in Pakistan where she was taught English at a young age. "I thought I'd face racism and people might not like me because I'm a Muslim, but I was surprised to find that people were very curious to learn about my country, my culture and religion, and no one said anything negative to me."
Halani's new husband encouraged her to make the trip. "He told me it was a great opportunity that I shouldn't miss," she said. "When I was a teenager, it was my dream to come to America to study. I can't explain how happy I was when I got selected for the program."
Halani, who is taking courses in art, sociology, and American history at KSC, has had the opportunity to visit several cities including Boston and New York City, as well as tranquil Walden Pond. Reflecting on her trip, Halani says she has learned to be very accepting of people's differences, especially when it comes to religion. "Every religion teaches you something good," she said.
Wearing a shalwar kameez, the traditional dress for Pakistan women, Halani recently spoke during this semester's Cross-Cultural Conversations series and shared food from her country. Asked what she wanted people in attendance to know about Pakistan, Halani replied, "I want them to know about the real Pakistan and not the one portrayed by the media," she said. "I'm sure they will be surprised to see it's not like they imagined. I want them to get to know all about my people and my country and they will fall in love with Pakistan. Just like me."
Related Stories