KSC Honors William Marvel and Tedd Benson for Contributions to NH and Community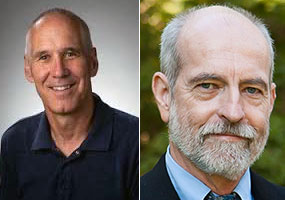 Keene, NH, March 22, 2016: Keene State College will honor two extraordinary men this year, during the College's commencement ceremony on May 7. William Marvel, nationally recognized author of more than 20 books about the Civil War, and Keene State alumnus, will receive an honorary doctor of humane letters. Mr. Marvel will also be the speaker at this year's commencement ceremony. Tedd Benson, founding owner of Bensonwood in Walpole, has been selected to receive this year's Granite State Award.
"Both of these distinctive men inspire us, through their impressive accomplishments, to be active and engaged in our own interests and passions. I am looking forward to welcoming them to this year's commencement ceremony," said Keene State College President, Dr. Anne Huot. "Through literature, William brings to life a profoundly important part of our nation's history, and by doing so in an engaging way, contributes to a deeper understanding of where we have been as a nation, and what it means for us today. Tedd is a true leader, and his commitment to the state is unmistakable. He is a role model for other business leaders and his work demonstrates that businesses can be successful while taking care of its employees, and placing an emphasis on sustainability."
William Marvel is recognized with the honorary doctor of humane letters for his remarkable contributions to informing the public about our country's history, in particular, the Civil War. He received many nominations for this recognition, including one from the Cheshire County Historical Society, which said that his "work has added immeasurably to our understanding of the role of this momentous event in American history. His meticulous research and engaging writing style have made his works important additions to the large body of publications about the War."
Tedd Benson is selected to receive the 2016 Granite State Award. This award is in recognition of his influence on craftsmanship in construction in New Hampshire, the economic growth that has been spurred by his innovative business model, and his role as an active community member. Mr. Benson also received many nominations, one of which was from Governor Maggie Hassan. In her nomination for Mr. Benson, Governor Hassan said, "Tedd truly represents what the Granite State Award was created to recognize – significant, long-lasting contributions that make our state stronger. He has led the way in best building practices, he has been recognized nationally, and he continues to expand his mission and his business in New Hampshire. I am grateful that Tedd chose the Granite State to build his business and believe that this award is a fitting way to recognize his work."
For more information about this year's Commencement program, visit http://www.keene.edu/commencement/.
About Keene State College
Keene State College is a preeminent public liberal arts college that ensures student access to world-class academic programs. Integrating academics with real-world application and active community and civic engagement, Keene State College prepares graduates to meet society's challenges by thinking critically, acting creatively, and serving the greater good. To learn more about Keene State College, visit www.keene.edu.

Keene State College: Wisdom to make a difference.
Related Stories