Phillip Rumrill '89 Wins Distinguished Career in Rehab Research Award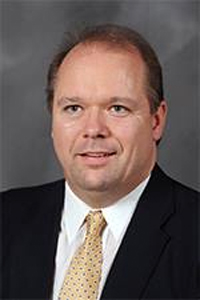 Dr. Phillip D. Rumrill, Jr. '89, M'91, who was back at Keene State to speak last December, recently received the 2016 James F. Garrett Award for a Distinguished Career in Rehabilitation Research from the American Rehabilitation Counseling Association at the Association's annual conference in Montreal at the end of March.
Dr. Rumrill is a professor and coordinator of rehabilitation counseling and director of the Center for Disability Studies at Kent State University in Ohio. He has authored more than 200 professional journal articles, 40 book chapters, and 13 commercially published books. He is also a frequent speaker at national and international conferences in the fields of education, health care, and disability studies. Among his many awards, Dr. Rumrill received Keene State's 2012 Alumni Achievement Award, and Kent State's 2015 Advancing Diversity Research Award. His Sandwich Generation's Guide to Eldercare won the Gold Medal in the Foreword's 2013 Book of the Year Awards in the Family and Relationship Books category.
Related Stories