Keene State Club Hockey Headed to ACHA National Tournament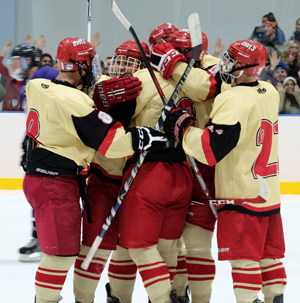 Bobby Rodrigue has told the tale a thousand times, but the 2000 Keene State grad and current head coach of the Owl men's club hockey team never gets tired of telling the story of the program's origination 10 years ago.
"A small group of students were playing pick-up hockey with Bert [Poirier—a 1983 KSC grad and associate head coach] and I down at the rink," Rodrigue recalls. "They came to us and said what do you think about the idea of starting a club team? And I said it will never work. And 10 years later we're going to the national tournament for the first time."
On Thursday morning, the 30-member Keene State Club Hockey team will pack up their duffle bags and head to West Chester, PA—the site of the American Collegiate Hockey Association Division II National Tournament. Ranked sixth nationally and seeded third among Northeast Region teams, the Owls (14-8-1, 8-1-1 Patriot Conference) begin round-robin pool play in the 16-team tournament with an opening-round game against Florida Gulf Coast on Friday (12:15 p.m.) Keene State faces off against Arizona State (the top-seed in their pool) on Saturday (12:15 p.m.) and Michigan State on Sunday (12 p.m. The Owls have never played ASU or MSU but swept then-national champions, Florida Gulf Coast, in a weekend series back in 2013. Winners from each pool will advance to the semifinal round on Monday with the Championship to be played on Tuesday.
The road to the championship is daunting. "The goal is to win five games in five days and that's not easy, concedes Rodrigue. "But we're confident that we can skate with all of those teams."
Rodrigue wasn't that hopeful early in the season. However, the Owls, who play in a conference that have teams affiliated with Division I Hockey East, regrouped from a disappointing loss to Merrimack College in late October, going 10-3-2 the rest of the regular season, including a 3-2 upset win over William Paterson University, the top team in the Northeast.
The Owls maintained their momentum in the Northeast Collegiate Association tournament, upsetting Boston University (3-0) and Northeastern (7-5). In the regional tournament in Danbury, CT, Keene State hung on for a 6-5 overtime victory against Central Conn. State and stamped its ticket to the national tournament in dramatic fashion on a game-winning goal by junior Kurt Mitchell just 55 seconds into overtime to give Keene State a stunning 3-2 comeback win against Northeastern University in the championship game.
What was the reason for the turnaround? Rodrigue says there's no place like home. "I think moving to the new rink (Keene Ice) has been huge for the boys. "These guys have been nomads for 10 years and now they have a real home."
That wasn't the case during their first nine years of existence. Hockey nomads, the Owls shuttled from Cheshire Fair to Cushing Academy and the Winchendon School in search of home ice. Rodrigue says the team has come a long way and fans would be hard-pressed to distinguish the caliber of play between Division III and the club program. "It's wickedly fast and wickedly competitive," he said.
A talented veteran team the Owls have peaked at just the right time this season. Senior and club president Dylan Strogen from Madbury, NH, is considered one of the top goalies in the league. KSC also has to strong defensive pairings in Derek Clark, a junior from Hooksett, NH, and Andrew Karlin, a sophomore from Medway, MA, and juniors Jeff Rossman from Newington, CT, and Cooper Hines, a native of Newburyport, MA. The Owls top line includes Mitchell from Bedford, NH, Mitchell Myers, a sophomore from Manchester, NH, and senior Andrew Pierce from Salem, NH, who leads the team in scoring with 22 goals, 14 assists, and 36 points.
Mitchell says the team is on a mission. "Everyone on the team is working extra hard at practice because the national tournament is in the back of everyone's mind," he said. "Right now we're among the top-16 in the country and we want to end the season being number one."
Playing club hockey isn't cheap. While the team is generously subsidized by the College's student assembly, the players have chipped in extra money and done additional fund-raising to cover their extended season and a new locker room. Mitchell says he doesn't mind the added expense. "You can't put a price on winning," he said.
Related Stories