Criminal Justice, Psychology, and Honors Program Makes a Difference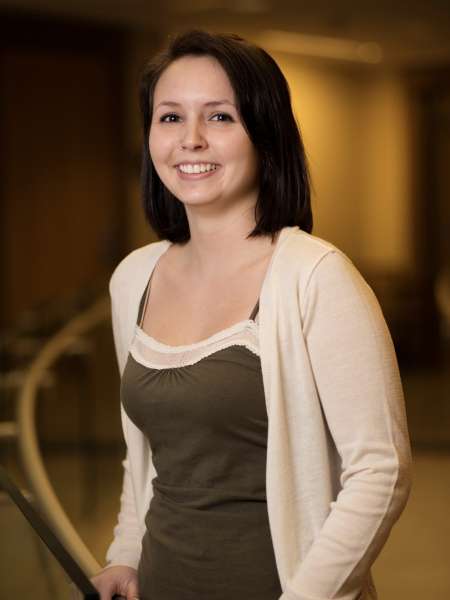 Keene State College senior Danielle Carlson is working to make a difference through Keene State's honors, criminal justice, and psychology programs.
Carlson, of Raymond, NH, is dual majoring in both criminal justice and psychology and she says that they're fields of study that complement one another and build a solid foundation for her future. She is finding that psychology adds another facet to her learning about criminology.
"I've always wanted to make a difference in the world and do something beneficial," Carlson said. "The criminal justice major at Keene State is well rounded and sociologically based. Then there are research methods and statistics and also a lot of elective classes that you can take in other areas like ethics and human behavior."
In addition to learning in the classroom, Carlson said she's had the chance to get some field time learning the ins and outs of the criminal justice system through field trips and internships relating to the justice system.
"I was able to take a trip to the local jail. It's strange to say, but I loved touring it and learning about it," she said. "I also did an internship this past summer with the drug courts and that was very eye-opening because I was able to take what I've learned and see how it's applied in practice. I gained a lot of knowledge about the system."
While class and fieldwork has helped to evolve Carlson's worldview, the honors program at Keene State has also made a vast impact on her.
"The honors program has helped me a lot; mainly the global engagement class gave the opportunity to travel when I wouldn't have had the chance otherwise. It was a completely life-changing experience. I was inspired by Dr. Bassarear and Dr. Gebauer when they talked about their work in Nepal—it made me want the same experience," said Carlson.
"When I was in Nepal I stayed in a sustainable community for a week and then we stayed with local families. The sustainable community was just amazing as a way to integrate us into the community and the culture there because it's a very big culture shock at first," she said. "The home stay pushed us even further into the culture and although that part was much more challenging for us, I wouldn't trade it for anything. I learned so much by staying with a family that didn't speak English. I learned how much you can communicate without speaking."
With both a well-rounded education in criminal justice and psychology, and a broadened worldview through the honors program, Carlson said that she's ready to tackle graduate school and a doctoral program in criminology.
"I've taken advantage of opportunities that were made available to me, and they have been transformative and important to where I am now, and where I will go in the future," she said.
Related Stories