LaFleur on Impact Monadnock Panel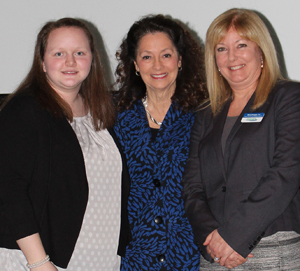 There's been nothing elementary about Brittany LaFleur's first two years at Keene State College. Already working in the classroom with the local Keene Head Start program, the sophomore elementary education/geography major from Woodstock, Connecticut, joined a local panel to discuss what steps can be taken to ensure children in the Monadnock region reach their full potential.
The program was put on by Impact Monadnock, a local non-profit organization that believes the key to overall community well-being is investing in children through age 5 and their parents and families.
The panel also included Jose Montero, MD, MHCDS, VP of Population Health and Health System Integration at Cheshire Medical Center; Cellissa Hoyt, project director, Seacoast Early Learning Alliance; Karen Dunnigan, a parent from the Fall Mountain School District; Keene Police Detective Bob Collinsworth; and David Beauchamp, assistant superintendent of SAU 47.
LaFleur, a member of Kappa Delta Pi (KDP), International Honor Society in Education, told the audience about her upbringing in a one-parent home and how her grandparents and members of the community served as mentors and helped shape her life. LaFleur didn't waste any time taking the first steps in her career. As a first-year student, she turned a volunteer position with Keene Head Start into a paid job.
Although she won't have a direct role in educating children in the vulnerable 0-5 range, LaFleur understands the struggles of students who fall behind. "That's the part that really makes me so passionate about the issue," said LaFleur. "I want those students to be ready. If they are behind in the 0-5 age range, they will be behind in my classes and in the future, and we need to change that."
Following the panel, State Senator Molly Kelly '83 and Marj Droppa, a former Keene State professor now serving as project director of the Early Childhood Development Initiative with Impact Monadnock, gave LaFleur high marks for her presentation.
"I think Brittany is a great example of the kind of person who has the heart, the passion and intellect to address the issues that we need in early education," said Kelly, who provided an update on the progress being made at state and national levels. "My responsibility and the responsibility of the community is to make sure that's attainable for her and we invest in those programs and those ideas"
"Brittany is a great role model, and I think it's very important for our community to see our young people willing to come into the challenging education field," said Droppa.
"Keene State plays a major role in our community and students coming out of its education program are vital to the lifeblood of our young children in the Monadnock region," Droppa added.
LaFleur, who also works as a teacher's assistant helping first-year students and serves as a residence assistant on campus, hopes to teach for a few years and eventually become a curriculum programmer. "The experiences and opportunities that Keene State has provided me with have helped me to blossom as a person and start to understand who I want to become," she said.
Related Stories