Brian Pickering '90 Named NH Principal of the Year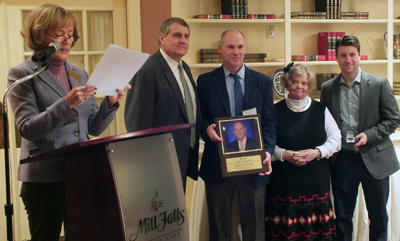 When it comes to Conval Regional High School in Peterborough, New Hampshire, Principal and 1990 Keene State grad Brian Pickering wears his heart on his sleeve, tirelessly devoting his time and energy to creating an environment that fosters mutual respect while also supporting the school's students and staff over the past five years.
Pickering's passion for Conval didn't go unnoticed or unrewarded. The New Hampshire Association of School Principals has named him High School Principal of the Year. Pickering said he was humbled by the honor and feels it's more of a team than an individual award. "I just happen to be the point person to get this recognition."
Superintendent Brendan Minnihan, who nominated Pickering for the honor, feels the award is richly deserved. "Brian is a truly inspirational leader who engenders the support of his faculty, the respect of his colleagues, and the admiration of the parents and wider ConVal community," said Minnihan.
In addition to creating a respectful Conval community and seeing a tremendous decline in disciplinary issues, Pickering has also played a key role instituting the Teachers in Academic Support Centers (TASC) program at Conval. Developed as a way to get students extra academic assistance in certain classes, the TASC model has been implemented in school systems around New England and the country. Pickering was the recent keynote speaker at the recent Inspiring Conversations in Education (ICE) Conference at Keene State. The conference offers educators an opportunity to come together and discuss insights, experiences, and issues in their field.
Begin pull-quote…

It's all about helping the students. You have to understand that every student is different and has different needs. You then have to build a system that supports each individual.

…end pull-quote
Pickering's connection to Keene State goes back many years. As a child growing up in Drewsville, NH, he and his father would often come to campus to attend athletic events. Pickering later transferred to Keene State from Plymouth State to complete his degree in health education, and retuned several years later to earn a master's degree in administration in 2007. He also continued his association with the athletic teams, serving for many years as an assistant men's basketball coach, including the 2003–04 season when the Owls advanced to the Elite-8 of the NCAA tournament. Pickering's daughter Allegra is a 2014 Keene State grad and is now in her second year working as a kindergarten teacher in Walpole, NH. Pickering and his wife Kerry, a longtime kindergarten teacher in Bellows Falls, Vermont, also have a second daughter Shea.
Prior to arrival at Conval, Pickering was the athletic director at Fall Mountain Regional High School. He later moved on to Monadnock Regional, where he wore many hats, including teacher, department head, assistant principal and eventually principal. Wherever Pickering has been, he's always put the students first. "It's all about helping the students," he said. "You have to understand that every student is different and has different needs. You then have to build a system that supports each individual."
While Pickering appreciates the recognition, he knows that there's a lot more work to be done. "I'm always thinking, 'what I can do next?' I want to make sure that our staff and everybody understands that we celebrate this award, but it's time to move on and go to work because there is so much more to do."
Related Stories