Keene State Holds Inaugural Summer Institute for Genocide Studies and Prevention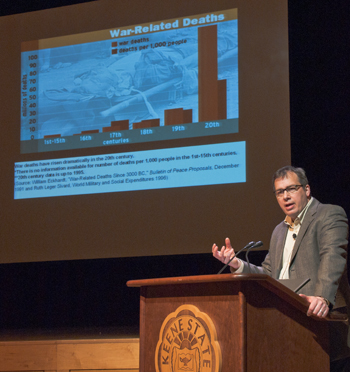 Thanks to the generosity of an anonymous donor who is impressed with Keene State's work regarding Holocaust and Genocide Studies and wants to see that work perpetuated to a larger audience, the College will hold its first biennial Summer Institute for Genocide Studies and Prevention over the week of June 6–10—the first time at Keene State, and the first institute of its kind first to focus specifically on teaching and curricular development related to genocide studies and prevention. Hosted by the College's Department of Holocaust and Genocide Studies (which offers the first and only undergraduate degree in the discipline), the Institute will focus on teaching genocide prevention, paying particular attention to analyzing those aspects of political, historical, economic, and societal factors that lead a country towards genocide and other mass atrocities and effective ways concerned citizens can mitigate those risk factors.
Intended primarily for full-time college or university teachers and current PhD students and post-docs interested in the field of genocide studies, the institute is intentionally interdisciplinary and international, to attract applicants from many disciplines and around the world. It supports the following objectives:
Promote study, research, and teaching in the growing field of genocide studies and prevention as a self-standing scholarly discipline that is distinct and independent from the existing schools of academic inquiry.
Encourage participating institutions to develop courses, academic modules, and foreign study programs incorporating genocide studies and prevention into department teaching.
Strengthen institutional capacity in terms of teacher-scholars conducting research in genocide studies and prevention, with an ultimate goal of developing interdisciplinary academic specializations in the field (that is, a major, minor, or area of concentration) at participating institutions.
Dr. James Waller, Cohen Professor of Holocaust and Genocide Studies at Keene State and author of Confronting Evil: Engaging Our Responsibility to Prevent Genocide (forthcoming May 2016, Oxford University Press) organized the Institute, funded by a generous gift from the Charles E. Scheidt Family Foundation. In addition to Dr. Waller, other invited instructors include:
Dr. Benjamin Valentino, Associate Professor of Government at Dartmouth College and co-designer of the Early Warning Project
Ms. Savita Pawnday, Director of Programs, Global Centre for the Responsibility to Protect
Dr. Ashad Sentongo (Director of Africa Programs, Auschwitz Institute for Peace and Reconciliation; Executive Director and Co-founder of GAPS Centre for Governance, Peace, and Security; and author of "The Practical Use of Early Warning and Response in Preventing Mass Atrocities and Genocide: Experiences from the Great Lakes Region".
"This inaugural Summer Institute on Genocide Studies and Prevention is a recognition of Keene State College's leadership in the field, particularly the work of its unique Holocaust and Genocide Studies academic department," Dr. Waller explained. "The Institute aims to replicate the success of what we're doing here on college and university campuses around the globe. From a field of nearly 60 applicants, we'll bring together 16 participants whom we feel are best positioned to make major curricular impacts in their home institutions and carry on the next generation work needed to ensure that 'never again' becomes a lived reality rather than an empty slogan." Those chosen for the first institute include scholars from Bangladesh, Taiwan, Nigeria, and the United Kingdom.
Related Stories