Alum Bilodeau Hangs Up Officiating Whistle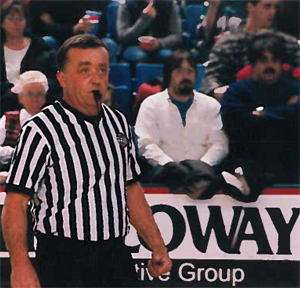 The clock is winding down on the basketball officiating career of Maurice "Moe" Bilodeau. Following his last game on March 4, the 1976 Keene State grad will hang up his zebra shirt and whistle for the final time. "I'm going to miss it, but when you have one bad knee and the other one has been replaced, you know it's time to go," he said.
Bilodeau has put up his share of miles, not only traveling to games, but racing up and down basketball courts around New England during his 43-year officiating career. Inducted into the NHIAA Hall of Fame in 2012, he has refereed countless contests including 25 basketball and 11 football championships. "I was very fortunate," said Bilodeau. "I can't say thank you enough to all the people that made it possible for me."
One of the people high on Bilodeau's thank-you list is former Keene State basketball coach Glenn Theulen. As a student, Bilodeau, who was a three-year member of the Owl baseball team and served as captain in 1975, took an officiating course taught by Theulen and went to the teams' practices and scrimmages to get hands-on experience. It wasn't long before the Manchester, NH, native was officiating games around the Monadnock region.
"He cared about his craft," said Skip Mason, a 1974 KSC grad and Bilodeau's college roommate. "We went to every sporting event you can imagine, not only watching the games but the referees as well. He was obsessive about getting the call right."
Fellow Keene State alum Stan Spirou '74 stepped forward to help Bilodeau build his officiating resume by getting him games in the Manchester area. "Back then there was almost a fraternity of older referees who were jealous of the young guys trying to move up," said Spirou, who coached at Manchester-Central before embarking on his college career at the University of Southern New Hampshire. "Moe was one of those young guys—he couldn't get a break, so I hired him to do some of our games."
Bilodeau's career took off from there. Traveling the main streets and back roads of New England, he got the opportunity to officiate some of the top high school and women's college games in the region, including Lebanon High's shocking win over Bishop Brady in the 1998 Boys' Basketball State Championship, considered to be the biggest upset in New Hampshire scholastic history. "I remember the floor shaking. It was so exciting," he said.
He also recalls refereeing a tightly contested women's game between his alma mater and rival Plymouth State. "Keene State beat them at the buzzer and the Plymouth State coach started chasing me," he said. "She said, 'I bet you went to school here.' I looked at her with a straight face and said, 'Class of '76,' and kept on going."
Bilodeau said officiating isn't for the timid. "If the crowd and coaches bother you, you shouldn't do it," he said. As far as dealing with coaches and players, Bilodeau says he tries to diffuse any tense situations. "I tell younger officials, If you have an ego coming in to this profession, you better get rid of it. In my book, ego is the cancer of officiating," he said. "But if you have self-confidence as an official, you're going to be around for a long time."
Spirou reinforced Bilodeau's sentiment. "Moe always believed that the games should be decided by the players on the floor, and it was about the kids and not about the referee. And that's what I admired about him," he said.
Officiating does have its drawbacks. In addition to the tedious travel schedules, there are also family concerns. Bilodeau, who has a wife, Kathy, and two daughters, Molly, a 2003 Keene State grad, and Kelly, said it's difficult being away from his family for long periods of time. He still remembers the time when Molly, then three years old, met him at the door one night. "I hadn't seen her all week and she looked at me with big alligator tears and said, 'Daddy do you have another game today?' She started crying and my heart came out of my body."
Officiating can also take a toll on your body. Refereeing a game at Brewster Academy in Wolfeboro, NH, Bilodeau, who stands 5'5", found himself on the wrong end of a domino-like collision with a 6-foot, 11-inch player. The accident precipitated some health problems that kept him off the court for two years. "Three doctors told me I'd never officiate again, but I'm stubborn and I said there's no way you're going to take my passion away from me," he said. "I did it the last two years, but I just can't go any more."
Now 65, Bilodeau, who recently retired from a marketing position with Pepsi, said it was that passion that kept him going all these years. "I try to treat every game as a challenge: Bring it. And I'll do my best."
Bilodeau is grateful to all the people who played a role in his officiating career. He will be missed by players, coaches, and fans all over New Hampshire and New England.
Say it ain't so, Moe.
Related Stories