Men's Basketball Team Heading Back to NCAA Tournament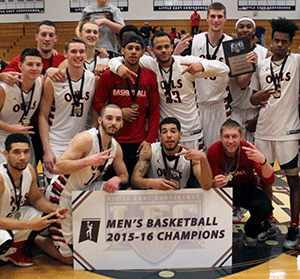 The Keene State College men's basketball team is heading back to the NCAA tournament.
The Owls locked up their second straight trip to the NCAAs with an 86-81 win over UMass Dartmouth in the Little East Conference Championship game on Sunday at Geissler Gym at Eastern Connecticut State University.
It's the fourth trip to the NCAA tournament for the Owls, who also went in 2004, 2007, and 2015.
Tournament MVP Nate Stitchell had 19 points, while freshman Ty Nichols came off the bench to add 20. Matt Ozzella had 16 and Tre' Tipton added 10.
Keene State will play at Stockton College in Galloway, N.J. on Friday, March 4. Also going to the regional are Middlebury College and Salisbury University. The two winners will play on Saturday.
The Owls held the nation's leading scorer, Jordan Rezendes, to 22 points on 7-or-18 shooting, eight below his average. Rezendes did not score in the second half.
Keene State shot 46% from the field (27-59), and made six of 12 shots from behind the arc. The Owls also knocked down 26 of 35 free throws, helping to offset a 47-37 rebounding advantage for UMass Dartmouth.
As in the semifinal against Rhode Island College, the Owls got off to a slow start. Rezendes and Akanni each nailed threes in a game opening 14-2 run over the first 4:35 of the game. Another three from Rezendes with 12:46 to go boosted the lead to 21-6, before consecutive baskets by Nate Howard pulled the Owls within 11.
Keene State began to chip away, as Ozzella converted a three point play with 8:10 left in the half that made it a 28-20 game, and Stitchell was fouled on a three point attempt that dropped, and though he missed the free throw, the lead was down to five.
Keene State ended the half on a 21-5 run, with eight of those points coming from Ozzella. His three point play with 1:45 to go put Keene State in front 47-42 for Arinze Obiora scored with 29 seconds left in the half.
Back-to-back layups from Nichols, the second of which came with 3:23 to go, gave Keene State a 74-68 lead, and after Mendes got the Corsairs within one a final time with a three point play, Nichols had a three point play of his own to keep it a two possession game with 1:09 left.
The Owls then went 9-for-10 at the foul line in the final minute to seal it.
Related Stories