Keene State Student Uses Skills From the Classroom to Help Educate Campus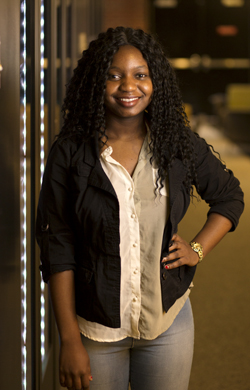 Keene State College Communication major Sandra Kayira is using the things she learned in classes like Interpersonal Communication with Dr. Chitra Akkoor to help strengthen and spread the messages of diversity and multiculturalism that both student group Common Ground and Keene State itself promote.
Kayira, a junior at Keene State and a Communication and Management double major, is originally from Malawi, a country in southeast Africa, came to the United States when she was seven years old and eventually settled in Keene.
She admits that before coming to Keene State she didn't think much about diversity and during her first year in college discovered the student organization Common Ground, which opened her up to new ideas.
"I felt like I had a place there because there were people from other countries and other students who wanted to make a change on campus and talk about diversity," she said. "Common Ground is what the definition of safe space is. It's a place where people can come and talk about who they are, where they come from and their experiences and we put on events to celebrate those things and also to educate the campus on the proper way to approach things like transgender and how to address trans people."
Being part of Common Ground can also prove to be difficult at times, as diversity and multiculturalism is still a sensitive topic, even for those invested in exploring it.
"When we have our meetings where we each talk about something that has affected us in a traumatic way or something that has changed who we are and how we see things, it's very hard for people to be open-minded about something that has happened to someone else, because the initial reaction is to act defensively, especially when it applies to you," said Kayira.
One thing that has made these discussions easier for Kayira is the lessons she's learning in her communication classes. "What I'm able to apply from classes like Interpersonal Communications is that we have to take ourselves out of what someone else is saying and objectively and open-mindedly respect what they're saying without trying to change them or judge them," she said.
While the lessons learned and taught by Common Ground may be difficult, Kayira said that she thinks they're making a difference.
"For me it's very important to have a group like Common Ground, because a lot of students mean well but say things that come off wrong. It's not like they're being purposely rude, they just don't know, and Common Ground is here to teach them why it's wrong," she said. "I think that this campus is getting better with its culture surrounding multiculturalism. It's definitely making the effort to make diversity a known issue and getting us the support that we need."
Related Stories