Justice Mentors Student Interested in Residential Life Career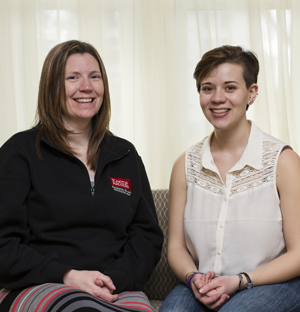 If you walk down Keene State's Appian Way with Casey Justice, be prepared to make many stops along the way. Justice, a 2003 Keene State grad and current Interim Assistant Director for Residential Education and Transition Programs at the College, seems to know everybody. "Someday I want to be like Casey Justice. I want to be that professional walking down the sidewalk that knows everybody," said Natasha Young, a third-year resident assistant (RA).
It's no coincidence that both Justice and Young have found a place making college a comforting and engaging home away from home for students.
Both were honored last fall by NASPA (Student Affairs Administrators in Higher Education), and both found the field by accident. "I stumbled into it," said Justice. "I was very fortunate to have supervisors that trusted me. They gave me the opportunity to see residential life as a department, and that's what really sparked my interest. After graduating, I thought I might return to the field someday."
Justice didn't leave for long. Returning to campus in 2007, Justice has seen her responsibilities grow over the years, not only working in residential life, but also taking a leadership role with the enrollment management team helping to implement the College's revamped summer orientation program.
"Casey has done it all and seen it all," said Kent Drake-Deese, the Associate Dean of Students and Director of Residential Life and Housing at Keene State. "She knows this place like the back of her hand and understands how things work."
Natasha Young
Like Justice, Young, who grew up in Goffstown, New Hampshire, got an early initiation into the world of residential life, becoming an RA as a sophomore. Young is involved with several groups on campus, including student government and the Social Activities Council, on top of a double major of art and sociology. She said Justice has served as a role model. "Casey really helped me find myself in the position," said Young. "She fueled my passion for residential life and being involved on campus."
With Justice's help and encouragement, Young attended the STARS College conference and last summer took part in the ACUHO-I Internship Program at Missouri Western State University, which offers a comprehensive and structured learning experience for candidates looking to work in a college union or activities program.
"I'm always thinking what we can find for Natasha that will help her get to the next level," Justice said. "I can't say enough good things about her. She is a student that I am excited to be able to call a colleague."
Young, who is currently making plans to attend graduate school and eventually work in higher education, called her time at Keene State unpredictable and unexpected, but also rewarding. "It's been a crazy journey, but I wouldn't trade any of the experiences I had for anything," she said.
Related Stories