Student Voice: So You Want to Be an English Major?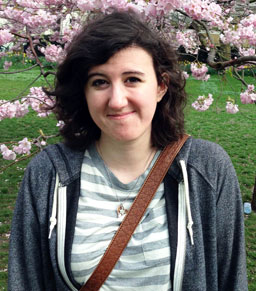 Caitlyn McCain is an English Literature and Writing major at Keene State.
I chose English as my major before I chose my college. After I made my decision, one of my biggest pet peeves became everyone asking me, "What will you do with that? Teach?" It felt as if the only career option for me was education. It made me ask myself over and over, "What can I do with a degree in English?" Before I came to Keene State, I really wasn't sure.
However, I've since learned there are more answers to that question than one might think. When studying English, students open themselves up to a world of career possibilities. The variety of professional opportunities is mirrored in the diversity of an English major itself. As I studied at Keene State, I concentrated in literature and writing. By opening myself up to the various facets of English, I also broadened my prospects for post-graduate work.
If being a teacher isn't necessarily the path forward, there are many other options to pursue with an English degree. English majors get work in a variety of fields: writing, editing, business, law, and technical communications. The way students focus their interests in school will help to narrow down what they might want to do afterwards. You never thought there would be a need to narrow possibilities with an English major, right?
If writing is your area of concentration, there are opportunities in advertising, freelancing, university press, and the news media.
A few Keene State alumni have already demonstrated the variety of opportunities an English degree affords. One graduate from 2011 teaches English in Korea to grades 4-6, while also contributing to local and international news publications. Another from 2006 received a law degree from New York Law School and has worked in civil rights litigation and policy initiatives.
From 2005-2015, English graduates from Keene State College have gone on to work as assistant attorney generals, guidance counselors, editors, proofreaders and legal assistants, not to mention all those who became educators, working with toddlers to college students.
The work that Keene State English alumni choose is as multi-faceted and diverse as the major itself. My classes have included Prose Poetry Writing, American Indian Literature, Immersion Writing, and Cooking, Eating, and Dreaming.
In addition to my wide variety of classes, I've been given practical opportunities to help my post-graduate career path. I work as a teaching assistant in an English course and as a writing intern for the Marketing and Communications Department.
So, the next time someone asks me about my major, and then asks, "What will you do with that?" I will tell them, "almost anything!"
Related Stories