Keene State Journalism Graduate Lands Dream Job as TV News Director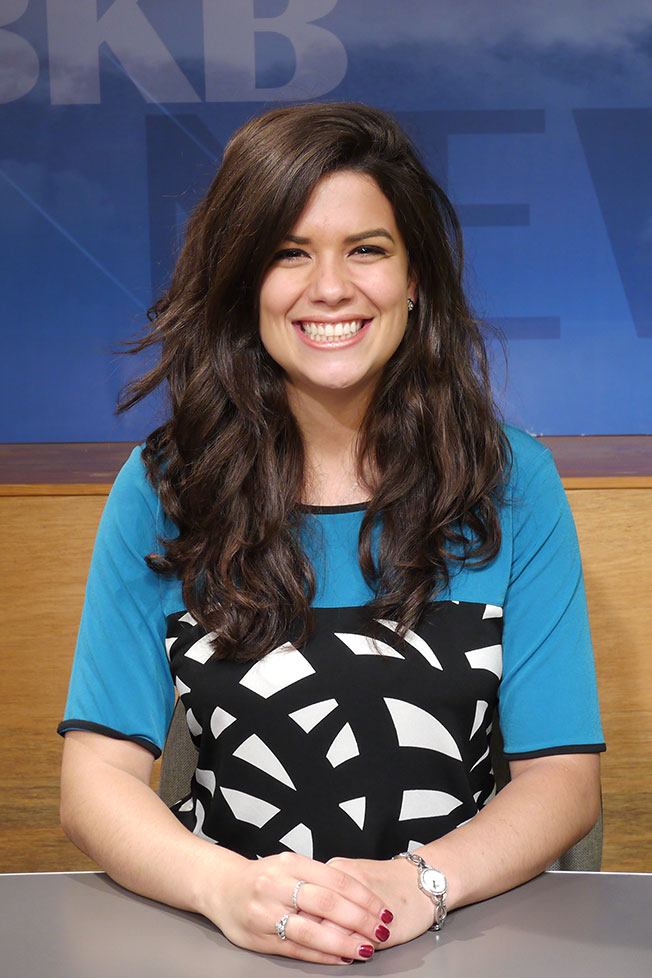 By Kendall Pope, Keene State senior studying Journalism and Public Relations, with a minor in Broadcast Journalism
Journalism major Bethany Ricciardi '15 tossed her graduation cap and then hit the road, traveling more than 900 miles away from home to work the WBKB TV news desk in Alpena, Michigan. Ricciardi said her interest in becoming a journalist began as a student at Pelham High School after realizing that writing facts and telling real experiences was what she loved.
Although she had a love for writing, Ricciardi said that she wanted to use her talent and outgoing personality to become a star TV journalist. In just seven months of working at WBKB News, the recent grad and 21-year-old has been promoted twice.
"Having a job that I love, right out of college, is nothing less than a blessing so I'm glad I jumped at the opportunity," Ricciardi said.
Originally starting as a weekend reporter/anchor on-air twice a week, Ricciardi was promoted to the night news anchor, which put her on-air five days a week.
After two months of night news Ricciardi got promoted again to news director, where she is now responsible for three other reporters. Ricciardi said she put the skills she gained in college to work—writing, editing, interviewing, shooting video, producing, and now going live on-air all by herself.
Not only did she get her dream job, but Ricciardi has also become a local celebrity in Alpena. "WBKB is a big face for this community, so I'm constantly asked to make speeches, judge contests, and host events. It's funny going grocery shopping and getting recognized as a public figure, but it comes with the job and I love every minute of it," Ricciardi said.
During her time at Keene State, Ricciardi was also a high profile face for the Journalism Department as an executive editor for Keene State's newspaper The Equinox and a reporter for Keene State's station, KSC-TV.
"Without KSC-TV I don't think I'd be sitting here with a job at WBKB News in Alpena, Michigan, talking to you about this right now," Ricciardi said. She continued, "Even though I'm the talent here at WBKB, I still know how behind-the-scenes stuff works because in TV class we got to run the prompter, do video graphics, use cameras and more."
Ricciardi said that although her course work prepared her for the requirements of her job, the Journalism Department was also supportive during her job search.
"I had more than three professors looking over my cover letter and resume and checking in with me constantly during my search. They were proud of me on a level I couldn't see in myself yet. On graduation day when I walked across the stage, I finally felt the sense of pride in myself that my professors had all along. And being here, sitting at my news director desk at WBKB, I could never take all the credit. My professors, Rose Kundanis, Julio DelSesto, Mark Timney, Rodger Martin, Dr. Chad Nye, and Marianne Salcetti got me here," Ricciardi said.
Despite her sudden life changes, Ricciardi said she wouldn't have it any other way. "Graduating in three years always makes me wonder what the fourth year could've been like … but then I look at my new job, new home and all the new experiences I'm having and I know God planned it out for me this way, and I'm just blessed to be here," Ricciardi said.
Related Stories