Tyngsborough Trio Team Back Up at Keene State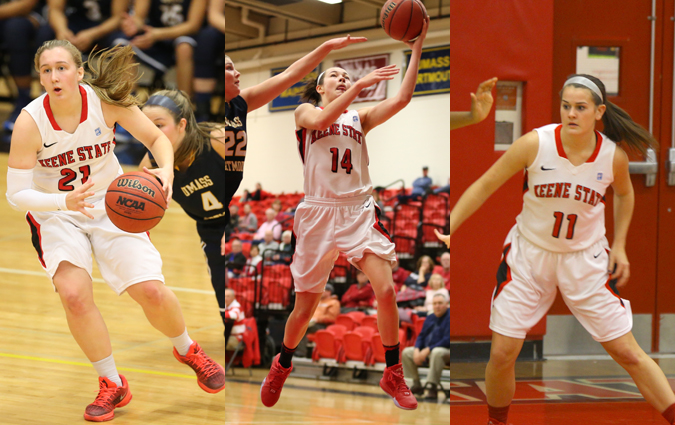 Following her final high school basketball game, Tyngsborough Tiger standout senior Stephanie D'Annolfo, as well as Emily McPadden and Paige MacNeill, both sophomores at the time, thought they were walking off the court as teammates for the last time.
Except it wasn't.
Two years later, the former high school teammates and best friends have been reunited as members of the Keene State College women's basketball team. Little did D'Annolfo know at the time that the threesome from the small town located on the Massachusetts-New Hampshire line would once again be crossing the sideline together at Keene State's Spaulding Gymnasium.
Not only have the three reunited, but they've helped Keene State get off to its best start in program history, winning its first 11 games of the season. Now a junior at KSC, D'Annolfo has done a little bit of everything for the Owls, utilizing her amazing athleticism and court savvy to be a difference maker at both ends of the court. McPadden has come as advertised, giving Keene State a much-needed offensive boost with her ability to hit the long-ranged shot. While MacNeil's minutes have been minimal this season, she provides the Owls with a solid option off the bench with her ability to play either in the front or backcourt.
"I think the kids in that town fit in well here at Keene State because they're hard-working players that get it," said longtime Owl coach Keith Boucher. "They don't get something for nothing – they have a good work ethic and attitude."
D'Annolfo, McPadden, and MacNeill are products of a fine feeder basketball program at Tyngsborough that gets players ready to compete at the next level. Born in Grand Junction, Colo., D'Annolfo grew up in Tyngsborough and followed her siblings into sports. Demonstrating her versatility by playing center as well as point guard at Tyngsborough High, D'Annolfo earned multiple team and league honors and was a member of a Tiger team that advanced to the Central Mass. (Division II) finals her junior year.
McPadden and MacNeill have been playing basketball together since middle school. The pair got to experience the Tigers' run to the Central Mass finals as freshmen before making their own marks as juniors and seniors. McPadden picked up conference all-star and MVP honors as a senior.
The first Tyngsborough player to make the trip to Keene State, D'Annolfo made an immediate impression with her tenacity on the court. "I was always told by my coaches that you don't get playing time unless you're working hard, so that's something I tried to go when I got here," she said. Her athleticism, coupled with her ability to play multiple positions, earned her a spot in the starting line-up as a freshman. "Steph is our Swiss army knife; whatever we need we just pull out that tool and she does it," said Boucher.
One of the Owls' captains this season and a member of the Little East All-Defensive team last year, D'Annolfo is once again filling up the score sheet, averaging 9.5 points and 7.1 rebounds per game and is second in the Little East Conference in assists (4.0) and steals (2.6). She scored in double figures in five games this year, including a season high 18 points against UMass-Dartmouth and Plymouth State.
Getting a good scouting report about the college and the team from D'Annolfo, McPadden decided to join the Owls and MacNeill soon followed. McPadden didn't waste any time making her presence felt, scoring a season high 20 points, including five three-pointers, in the Owls' second game of the season against Sage (NY) College. "Emily is a zone breaker," said Boucher. "You expect every shot she takes to go in."
Unlike D'Annolfo and McPadden, MacNeill wasn't recruited to play at Keene State, but earned a spot on the team after impressing Boucher during pre-season workouts.
D'Annolfo said seeing McPadden and MacNeill on the Keene State court have given her a strong dose of déjà vu. "It's insane because we will be in practice or even in a game and I will drive and pass the ball to Emily in the corner for a basket," said D'Annolfo. "We did the exact same thing in high school."
Boucher hopes there are more Tyngsborough players on their way to Keene State. "If there's another one out there like those three, they better tell me about it," he said.
Related Stories