'15 Graduate Stays in Keene to Make a Healthier Community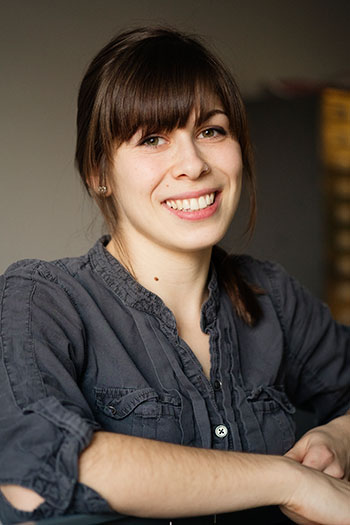 Looking at her achievements now, nobody would guess that Keene State College's Community GIS (geographic information system) Coordinator Samantha Gaudette began her education career with such a rocky start.
Growing up in and around Dover, NH, Samantha dropped out of high school twice, earned her GED and began working full time at 17 with no plans of going to college. After working a few years, she realized that higher education was a path she actually did want to pursue.
"Around 19, I decided that I wanted to go to school and I enrolled in Granite State College. It was perfect for me because I was still working full time and I was taking classes at night. I did that for two years and then realized that part-time schooling was going very slowly and I found out that there was a seamless transfer program with Keene State and decided that would be the route I would take," said Gaudette.
Even though she had made the decision to attend college full-time, Samantha still didn't know what exactly she wanted to study. She began in the Art Program because she enjoyed drawing and painting, but after a few classes chose to transfer into Geography because she was passionate about the environment and sustainability. But after taking a few courses, there was still something missing.
"I enjoyed the coursework and the topics that we were covering. It was a relatively new department and I felt like I needed something different," she said.
Samantha began looking again for a major that would better suit her needs and interests.
"It's funny to me now that it was just a hallway away and I never considered Geography until I found an environmental geography course. It seemed to be really in line with what I was thinking and wanted to be doing. I took the class and the first day realized that finally there was a discipline that married my interests, my abilities and all the things that I wanted to be doing in the future," said Samantha. "The work provided an opportunity for me to have an understanding of physical, cultural and historical geography and all of these things that wrap together to make you a well rounded person."
That first environmental geography course was a jumping off point for Samantha, as she began to immerse herself in all the aspects of geography that she could.
"I found that when I got more interested in the topics in the classroom I got more involved outside of the classroom. Keene State has a lot of opportunities for undergraduate research and the Geography department is very vocal about what they have for students. They're really big on internships that get students involved in the community while working on real-life, real-time projects. That also will make them a better candidate for a job or for graduate school after they graduate," she said.
With her basic courses out of the way, Samantha was able to start steering her career in the direction she wanted, and she chose to start with the planning aspect of geography and within a few weeks had an internship with the New Hampshire Department of Transportation, conducting traffic research.
"That's when you gather data on a certain area of road and then take that data back and do an analysis to inform real-world decisions. I found the work really interesting so I took a couple of computer mapping classes and I found that to be really interesting. I always thought that I wanted to be out in the field talking to people and looking at nature, but then there was this incredible resource right in front of me."
Samantha chose to use that resource to propel herself into her next job as a student research assistant for Dr. Chris Brehme; a job she would keep until she graduated in May 2015.
"Immediately after I graduated, Dr. Brehme came to me and said that there was a grant that would take my position as a student and amplify it to a coordinator position for the lab. It's a larger reflection of what I was doing as a student and it's really incredible to be able to go from being a high school dropout to getting to the point of being the first person in my family to get a higher education degree, and having a job right afterward," said Samantha.
Though she never had an intention of going to college when she was younger, Samantha is now applying to graduate programs across the country and waiting to hear back as to whether an acceptance and graduate work will be in her future for fall 2016.
Related Stories