Mister G performs family music at the Redfern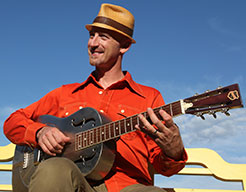 Looking for something for the kids to do during the winter break? Then come out to Keene State College's Redfern Arts Center for its third annual February family music show with 2015 Latin GRAMMY Award winner Mister G performing a hand-clapping, toe-tapping family music concert on Saturday, February 27, at 11 a.m. in the Alumni Recital Hall. Tickets are only $5 each so everyone in the family can attend this Saturday morning concert by one of the leading figures in the children's music world. For tickets, contact the Redfern Box Office, open Monday to Friday, noon to 6 p.m., call 603-358-2168, or order online at keene.edu/arts/redfern.
Mister G (Ben Gundersheimer) will be singing songs from all of his award-winning, albums for children, including his recent bilingual album, Los Animales for which he won the 2015 Latin Grammy for Best Children's Album. Spanning genres from bluegrass to bossa nova, funk to folk, his dynamic, original music has won praise from The Boston Globe, LA Times, Chicago Sun Times, and the New York Post. His five CDs of original music for children have been selected as top children's albums by People magazine, Parents magazine, The Washington Post, and Education.com
Mister G "skillfully and tunefully wraps entertaining and educational lyrics in a variety of Latin rhythms that offer listeners a welcome invitation to sing along, jump to their feet and move to the beat," said Parents' Choice Gold Award.
Called the best live act for kids and families, Mister G has toured internationally as an award-winning songwriter for grown-ups prior to earning a Master of Education and becoming a full-time family musician and teaching artist. Mister G regularly headlines major venues across the United States and has also performed extensively in Latin America and Europe.
There are several free activities surrounding Mister G's performance.
Mister G will offer a Song and Play workshop for the children of the Child Development Center at Keene State College on Friday, February 26, at 10 a.m.
Mister G will join audience members after the February 27 concert for a meet and greet and reception in the lobby. There will be snacks and art making for the whole family following the show.
Download a free coloring book, listen to Mister G's music, and watch videos on Mister G's website.
For questions or more details on these free activities, please contact Redfern Assistant Director, Sharon Fantl, sfantl@keene.edu
This performance is sponsored by the Keene State College Child Development Center and funded in part by the New England States Touring program of the New England Foundation for the Arts, made possible with funding from the National Endowment for the Arts Regional Touring Program and the six New England state arts agencies.
About Redfern Arts Center at Keene State College
The Arts Center is named in honor of Dr. Leo F. Redfern, Keene State College President from 1969 to 1979 for his vision, commitment, and eloquence on behalf of the arts that made funding and construction of the facility a reality. In 1981, KSC inaugurated this new performing arts center, with the goal of providing unforgettable artistic encounters for the campus and community. Now in its 34th season, the Redfern Arts Center's mission is to present and foster dynamic and multifaceted arts experiences through performances, residencies, and related programs that deepen the connection between the arts and audiences, both from the campus and the greater Monadnock region.
Related Stories