Rodney King Play Brings History to Life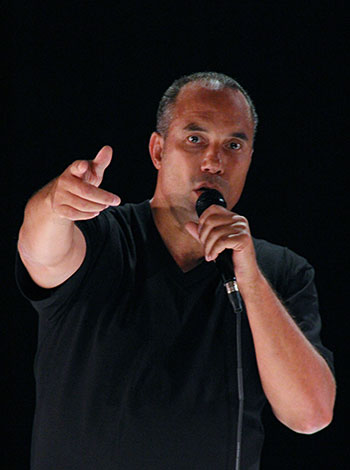 History, poetry, and tragedy collide when stage and film actor Roger Guenveur Smith tackles the thorny odyssey of Rodney King, caught in the glare of the national spotlight as the victim of police brutality that ignited the 1992 L.A. riots. Rodney King, a solo play created by Smith, will be performed on Wednesday, February 17, at 7 p.m. in the Main Theatre of the Keene State College's Redfern Arts Center. Smith is well known for his film roles in American Gangster, Final Destination, and Malcom X.
Tickets to this riveting and timely performance range from $25 to $15 and $5 for KSC students. For tickets, contact the Redfern Box Office, open Monday to Friday, noon to 6 p.m., call 603-358-2168, or order online at www.keene.edu/arts/redfern.
Rodney King offers a meditation of a flawed, goodhearted man and reveals America's endlessly complicated relationship with its racial past and present. Roger Guenveur Smith's play recounts the life of King whose videotaped beating by the Los Angeles police in 1991 incited deadly riots after the officers were acquitted in 1992. From the harsh glare of the national spotlight as the victim of police brutality to Rodney King's involuntary martyrdom to his lonely death at the bottom of a swimming pool, the play is a rhythm-driven mix of improvised movement and theatre, spoken word poetry and, as Smith himself describes it, a "post-mortem interview with the man himself." Nestled between excerpts from Willie D's "F**k Rodney King" and King's memorable May 1, 1992 "Can we all get along?" speech, the piece is an exploration of the legacy of an icon of American history with Smith improvising the dialogue to reflect the ongoing issues of police brutality and racism into the 21st century.
"Roger Guenveur Smith gets it all and gets it brilliantly," said The New York Times about Rodney King.
Smith is an award-winning actor and theatre artist known for his roles in Spike Lee's classics like Do the Right Thing and Malcolm X and his work in television series such as HBO's Oz and K-Street. Smith is currently featured in the 2016 Sundance Film Festival sensation The Birth of a Nation. Since 1990 Smith has crafted dramatic pieces around other African-American historical figures such as Frederick Douglass Now and the Obie Award winner A Huey P. Newton Story which was turned into a telefilm. Smith's solo performances seamlessly fuse facts and fiction motion and emotion into a gripping narrative that poses impossible questions while illuminating his subject with grace and empathy.
There are several contextual activities surrounding the Rodney King performance.
Roger Guenveur Smith leads a Performing History Workshop with American Studies 140 classes on Tuesday and Thursday, February 16 and 18, at 10 a.m. in Parker Hall, room 211.

A Conversation about Rodney King with Roger Guenveur Smith occurs with students in Communication 240 and Theatre and Dance 199 classes on Tuesday, February 16 at 4 p.m. in the Wright Theatre of the Redfern Arts Center.

Join us in the lobby after the February 17 show for a talk back and reception with Roger Guenveur Smith, moderated by Dr. Dottie Morris, KSC's Chief Officer of Diversity and Multiculturalism.
For questions or more details on these free activities, please contact Redfern Assistant Director, Sharon Fantl, sfantl@keene.edu
This performance is funded in part by the Expeditions program of the New England Foundation for the Arts, made possible with funding from the National Endowment for the Arts, with additional support from the six New England state arts agencies.
About Redfern Arts Center at Keene State College
The Arts Center is named in honor of Dr. Leo F. Redfern, Keene State College President from 1969 to 1979 for his vision, commitment, and eloquence on behalf of the arts that made funding and construction of the facility a reality. In 1981, KSC inaugurated this new performing arts center, with the goal of providing unforgettable artistic encounters for the campus and community. Now in its 34th season, the Redfern Arts Center's mission is to present and foster dynamic and multifaceted arts experiences through performances, residencies, and related programs that deepen the connection between the arts and audiences, both from the campus and the greater Monadnock region.
Related Stories