Keene State Alumni Stranded by Blizzard with Duquesne Team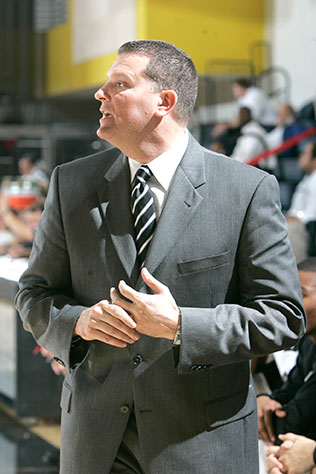 Keene State College alum Jim Ferry '90 had his share of adventurous road trips as a member of the Owl men's basketball team, but he'd be hard-pressed to come up with a more harrowing experience than this weekend when he and his Duquesne basketball team from Pittsburgh, Pennsylvania, was stranded for over 15 hours on the Pennsylvania Turnpike due to a blizzard that hit the mid-Atlantic States.
One of the most notable Owl athletes to go into the college coaching ranks, Ferry (who still holds the KSC record for free throws attempted in a game) and his team found the freeway tough going after hitting the road 4:30 p.m. Friday following his 300th career win—a 86–75 victory over George Mason University. "We played a good game and won and were tracking the storm the whole time," Ferry told ESPN, who reached him on the stranded bus.
But suddenly everything came to a standstill. "We were making good time and doing well, and around 9:15 we came to a dead stop and we haven't moved since," said Ferry on Saturday morning.
Ferry, now in his fourth season coaching the Dukes, and associate head coach Brian Nash, a 1992 Keene State grad, said the guys handled the ordeal well. "We have a great group of guys and we just hung out and had a good time with each other," Ferry said. "We watched a movie and guys were goofing around with their phones. But hours turned into hours and hours, and the next thing you know 12 hours later we're in the same exact spot."
"This team has been through a lot." Ferry added. "We have two cancer survivors on our team (assistant coach John Rhodes and point guard Derrick Colter), so for those guys this is nothing. We've all done a lot together, so we'll get through this."
Begin pull-quote…

This just obviously got national recognition because of the tough situation. To see the guys handle themselves and act the way they did, it makes you proud.

…end pull-quote
The players tried to make the best of a bad situation, passing time by holding a bunch of twitter polls where players voted on who should be kicked off or what group should push the bus. Players also left the bus to make snow angels and visit a bus carrying eighth graders who were on their way home from Iowa.
Ferry said at one point they were down to about four Gatorades and no food. "So now we're starting to think this could get serious," he said. "We started to think about saving the water bottles and filling them up with snow and then put them on the bus defroster so we could have some water."
According to reports, the National Guard was called out to provide food and water as well as chains and shovels for stranded motorists. Ferry told College Gameday that his assistants "trudged through the snow and hitchhiked a ride with security people" to bring back food after the team's supply ran out.
Amidst a loud cheer, the team's 30-plus hour ordeal came to an end when the bus rolled onto the Duquesne campus in Pittsburgh. Ferry said it was nice to have the bonding experience, but he could think of some better ones.
"We see the good stuff the players do all the time," Ferry said. "This just obviously got national recognition because of the tough situation. To see the guys handle themselves and act the way they did, it makes you proud," he said. "It makes you see that they really do get the message."
Related Stories