Curtis Butler '15, Recycling Industrial Wastewater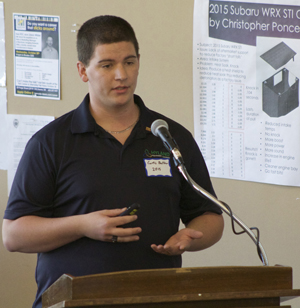 SPDI major Curtis Butler '15 stepped off the stage at Commencement last May and into a position as lead design engineer at Hyland Equipment Co. in E. Greenwich, R.I. Hyland designs filtration systems that recycle and dispose of commercial and industrial wastewater, such as that generated by equipment washing, dip tanks, machine cooling, and other forms of industrial process water. Hyland's systems can reclaim up to 98% of the water in the oily wastewater stream, which offers not only significant cost savings, but conserves a precious resource as well.
Primarily, Butler creates working drawings of the filtration systems that aid in the manufacturing process and help potential customers better understand the system. He also studies the existing systems and reverse engineers them to see if he can reduce materials, increase efficiency, and come up with improved designs for future development. "We are working on developing safety features that will greatly reduce the risk of the user being exposed to potential hazardous liquids and fumes," Butler explained. "We also want to make the systems even easier to use to make saving water as effortless as possible."
Butler credits Keene State's SPDI program for preparing him for a successful career by giving him a broad understanding of all aspects of manufacturing, from engineering and design to working as a team to understanding the costs of creating a product and marketing it. "We're taught to fully understand how and why things happen the way they do and to see that not as a restraint, but as the tools to help you develop your product to its maximum capacity," he said.
"Our SPDI classrooms were designed to encourage creativity and innovation, with custom-made white board walls, a 3D printing lab, graphic design tablets, and the machine lab with its CNC machines, CMM machine, and manual machines, as well as all the hand tools and work space you need," Butler remembered. "I liked to think of it as my CandyLand, and I do miss the infinite freedom that it gave me."
And the faculty? "Each SPDI faculty member was always there to push you past your comfort zone and challenge your creativity, making you think 'Ok, this is a cool design, how the hell are we going to fabricate it?'" Butler said.
Related Stories