Keene State Alum Wins DAISY Award for Extraordinary Nurses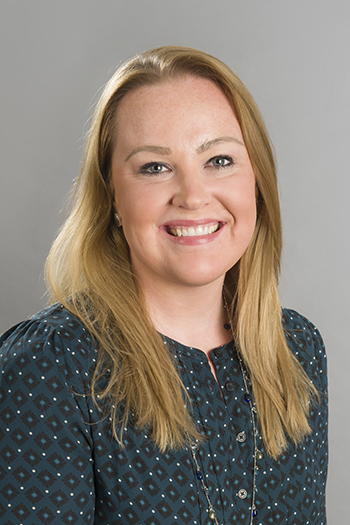 Sometimes life takes you in a direction you never saw yourself going, but it turns out to be the best road you have ever taken. Just ask Sarah Fiedler, a 2006 Keene State College grad, who went from writing stories as a journalist to recording the symptoms of her patients as a registered nurse. Fielder, who admits to falling in love with her patients, found out that the love was reciprocal last October when she was the recipient of the DAISY Award for Extraordinary Nurses, a recognition program that honors the super-human work nurses do for patients and their families every day. The award is given in all 50 states and in 14 countries to honor nurses.
"I was shell-shocked when they presented me with the award," said Fiedler. "I was actually upset that they took me away from putting an IV into one of my patients so I could be honored at the ceremony. It's nice to be recognized for all your hard work."
Even today, Fiedler, who graduated from KSC with a degree in journalism and a minor in French, can't believe the set of circumstances that landed her in a doctor's office. "Who would have thought years ago I would go back to school and become a nurse?" she said. However, the telltale signs told a different story. Sarah, who grew up in Swanzey, NH and greatly appreciated her teachers at St. Joseph's School in Keene and Monadnock Regional High in Swanzey, always admired her mother Anne for her work as a caring and compassionate nurse. "Just growing up with someone like that makes you want to be a better person," said Fiedler. "You want to make her happy and proud of you."
While Fielder didn't initially follow in her mother's footsteps and pursue a career in nursing, she did follow her father, Mark Fiedler '82, to Keene State. "Keene State College provided a solid four-year bachelors foundation and the confidence to further my education as I grew into who I am today," said Fielder. "My advisor, Professor Marianne Salcetti, taught me more about writing during my time at KSC than most learn in a lifetime."
Choosing the Path to Helping Others
Although Fiedler enjoyed her time at KSC, working closely with her journalism professors and serving her last two years as editor of the school yearbook the Kronicle, Fiedler realized that she was not suited for a desk job. "I wanted to do something a little more active, and I wanted to help people," she said.
Fiedler and her younger sister Susan enrolled in a nursing program, earning their degrees in 2010. "It was the hardest thing I've ever done. I would never recommend it unless you really want to help people," said Fiedler. "But it's worth it. Once you have your nursing degree, no one can ever take that from you."
Fiedler worked in Groton, MA, and Keene before taking a job at the Smilow Cancer Hospital at Yale-New Haven in 2012. Fiedler's special connection and compassion toward her patients initiated letters from families and comments from peers and supervisors that led to her receiving the DAISY Award. "I had no clue about the award," said Fiedler. "You're so busy just trying to get through the day."
Fiedler, who currently lives in the Hartford area and works as a nurse manager at the Hartford Healthcare Headache and Neurosciences Center in Wethersfield, CT, has returned to school again, working on her master's degree in nursing from St. Joseph's College in Maine. "Life leads you in ways you never expect," she said.
Related Stories