In Memoriam: Bob Mallat '58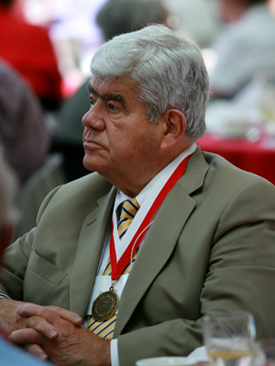 The Keene State community has lost one of its most stalwart members—one who truly embodied the College's motto, "… go forth to serve." Robert "Bob" Mallat Jr. '58, former Keene State College alum and administrator, former mayor of Keene, and dedicated community and state leader, died peacefully on Christmas Eve at his daughter's house in San Jose, Calif., where he had been living for the past few years.
Recipient of the Alumni Achievement Award, the 75th Anniversary Medallion, and the Sprague Drenan Award, Bob gave many years of exceptional service to Keene State College as director of the physical plant and as vice president of resource administration, as Keene State's Alumni Trustee on the Board of the University System of New Hampshire, as board member of the Keene Endowment Association, and as a member of the College's Alumni Association.
In addition to his dedication to the College, Bob was selfless in his service to his community and state. He was elected to the Keene City Council in 1960 and served as mayor from 1962 to 1966, when Keene was named an "All-American City." He was elected to the Governor's Council in 1964 and to the N.H. House of Representatives from 1971 to 1972. He served on the Greater Keene Chamber of Commerce, Keene Planning Board, Keene Board of Education, and as a Trustee of Trust Funds.
Bob was in place in the mid-1960s to help Keene State build the facilities it needed to fulfill its new mission as a state liberal arts college as it transitioned from its more limited role as Keene Teachers College. This was far more than just a name change, especially as then President Roman Zorn launched his vision of Keene State as a "little Ivy" in the state system by hiring several excellent faculty members and constructing buildings needed to make it a reality. Bob was instrumental in shepherding the building of the Mason Library, the Science Center, the Dining Commons, and the Spaulding Gym.
"The things that Bob cared about, he cared about with a great passion," explained Vice President for Finance and Planning Jay Kahn, "and three of those were his college—Keene State; his city—Keene; and his faith—St. Bernard's Church. He poured his energy and passion into all of his interactions with those institutions. You could feel it. You could feel it in the ways he related to people. He had a tremendous facility for remembering names, so he could always keep it personal. He brought his caring and personal touch to his endeavors."
"Bob Mallet could be called 'Mr. Keene State,' because of the work he did to make the campus the beautiful spot it is today," said former Alumni Board President Norma Walker '52. "He gave a great deal of time and love to Keene State not only as an employee but as an alumni. He always held Class of 1958 gatherings at his home during Reunion."
"Bob Mallat was a one-of-a-kind KSC hero, and he and his service to the college are legendary," recalled David Gagne '72, who also served as Alumni Board President. "He was 'bigger than life' to many who knew him."
Members of the campus and greater community are invited to gather this spring to plant a tree in Bob's honor. An announcement will follow as the weather warms and planting season is upon us.
Related Stories