WKNH Named One of the Top College Radio Stations in the Country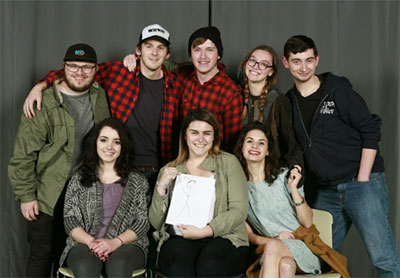 Like a song fluctuating up and down the charts, WKNH Radio has experienced its share of highs and lows since signing on the air in 1971. Currently located on the second floor of the Lloyd P. Young Student Center and 91.3 on your FM dial, WKNH, a non-commercial station run by Keene State students and volunteer community members, has plenty to talk about these days.
The station was recently named one of the top college radio stations in the country by the web site BestColleges.com. The honor, which takes into account online streaming capabilities, community involvement, and studio facilities, came out of thin air. "We were all pretty shocked and pleasantly surprised when we heard the news," said Kerrianne Thomas, who serves as co-general manager of the station with Joe Geis.
"I think it shows the progress we've made as a team," said Rachel Lanza, who co-hosts a show with Thomas called "That's All She Played" on Tuesday nights. "We love the station so much. We're very proud because it shows we are making the station an all-inclusive and diverse club."
Members of the station, which includes about 70 DJs, credit former GM and 2014 KSC grad Tim Gagnon for getting WKNH back on track, bringing in a dedicated group of DJs with an assortment of shows and music genres for every listener's taste. Where else can you listen to "Move Your Hips with DJ Dips" or "Captain Tripster's Groovy Tunes & Righteous Jams"?
Although its studio is hidden behind windowless walls in the student center, that hasn't stopped WKNH from getting out and raising its visibility. A mainstay at the annual Pumpkin Lobotomy, the station has recently teamed up with several campus clubs to add a musical touch to their events. "We set up a table and played music at Solarfest last semester, and it turned out great," said Angela Scionti, the station's promotions coordinator. "By teaming up with campus ecology we were able to expand our budget and get some awesome bands."
A senior communications major from West Islip, NY, Thomas met Lanza two weeks into their first year at KSC. It didn't take long for the pair to find a home at WKNH. Thomas said WKNH has provided her with a career path. "Like a lot of freshmen, I didn't know what I wanted to do when I came to college," said Thomas, who has already added to her impressive resume with several internships, including one at SiriusXM. "I just found these people and found this hobby that I really like doing so I stuck with it. It's by far the best thing I have done in college."
Scionti, a senior communications major from Londonderry, NH, also feels her time at the station has been time well spent. She said her position has opened up several doors for her, including internships and a job as a part-time DJ at a station in Greenfield, MA.
For many DJs like Lanza and Program Director Sean Malone, a senior secondary education/math major who intends to go from the studio to the classroom when he graduates, working at the station has offered a needed respite from a hectic school schedule where they can kick back and share their music with listeners.
WKNH plays a different tune than other clubs on campus. The club is not only governed by Federal Communication Commission (FCC) regulations, but also includes community members, who many say are the backbone of the station. "They really bridge the gap between the different eras of the station," said Lanza. "We're pursuing the same passion and it allows us to get really close to the people in our community."
Mitch Mendys, who has been at WKNH since 1993 and still does three shows a week, has the honor for being the longest community member at the station. Originally from Worcester, MA, and now living in Gilsum, NH, the 68-year old DJ has high praise for the current corps of students running the station. "The kids who are there now are just aces," he said. "They're creative and everybody gets along."
"It's amazing. People believe in us and want to support us," said Thomas, who graduates in December and would like to work as a radio producer or tech. "It's all about getting yourself out there and being friendly. We tell people they should join WKNH because everybody can."
Related Stories