Keene State Senior Launches Her Career Working with Historical Documents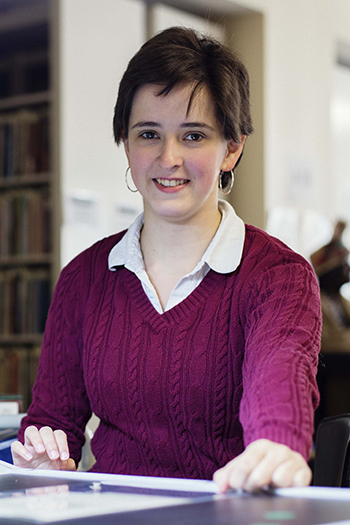 Many Keene State students view a work-study position as a way to supplement their incomes, pay rent, or fund a weekend adventure. Keene State senior Mylynda Gill has taken her work-study position as a student-archivist at Keene State and used it as a launching pad for her career.
Gill, from Troy, New Hampshire who is majoring in both Psychology and English, is archiving historical documents from New Hampshire so that they can be accessed in the future by anyone curious for a taste of the Granite State's history.
"Basically what I am doing is digitizing old New Hampshire documents. Digitizing entails scanning documents so that they can be viewed later on a computer, or online. Some of the documents, such as the documents from New Hampshire's first governor are over three hundred years old and the ink is faded, so it's important to have as high resolution as possible," she said.
Gill found her skill for working with historical documents through an English class at Keene State and after the semester was complete, she was offered a position at Mason Library Archives and Special Collections.
"I went to the archives with an English class that was taught by Professor Emily Robbins-Sharpe and our goal was to transcribe some old WWII love letters between a soldier and his wife. Most of my classmates finished with one letter by the end of the semester, but I had two done by then. Rodney Obien, head of the archives, asked me if I would like a job. "
Gill says she's grateful for the opportunities she's been given during her time as a student archivist at Keene State, including the opportunity to present at a conference.
"I presented on a panel about primary sources with archivists from Dartmouth, MIT, Yale and Harvard. At that conference I met the archivist from Dartmouth, and that lead to an internship there."
"This position has given me three years of experience in the field that I already want to get into and it's led to my internship at Dartmouth in the spring of 2016. It's rewarding to have this experience before I've even graduated," she said. "Not many undergraduates can say that they already have three years experience in the field that they want to pursue. Many jobs today not only want the degree, but they want you to have the experience and I can show that I already do."
Related Stories