College and Businesses Start Scholarship Program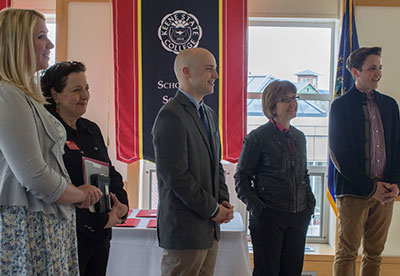 Four Students Selected to Receive Scholarship and Mentoring through Program
Keene State College announces the Business Partners' Scholarship program – a new program that provides financial support to students and connects students with sponsoring businesses to foster mentoring, internships and other ways of helping students gain meaningful experience and knowledge outside of the classroom. As part of Keene State College's efforts to build deeper relationships with business and prepare students to pursue meaningful work, the College has collaborated with several New Hampshire businesses to create the program. Four students have been selected as the 2015 recipients of the Business Partners' Scholarship program. This year's selected students are Sarah Bushnell of Manchester, CT; Ryan Milewski of Ashland, MA; Todd Patnaude of North Andover, MA; and Eric Walsh of Middlebury, CT.
"The level of engagement we are developing with business leaders in New Hampshire holds great promise as we educate the next generation of leaders in the Granite State," said Keene State College President Dr. Anne Huot. "The vision and leadership demonstrated by the founding sponsors of the Business Partners' Scholarship Program are outstanding. Their support underscores the importance of collaboration between higher education and business to the future of these businesses and the strength of New Hampshire's economy. We look forward to expanding this program as Keene State broadens and deepens its relationships in New Hampshire's business community."
The Business Partners' Scholarship program is in its inaugural year. Founding sponsors of the program are Hitchiner Manufacturing of Milford, Markem-Imaje of Keene, Safran Aerospace Composites of Rochester and Whelen Engineering of Charlestown.
Mark Fish, Regional Director-Americas at Markem-Imaje, says, "Keene State is a terrific business partner. They listen closely to our needs and are responsive, collaborative and have a wide range of programs that are vital to Markem-Imaje's business needs. When we first talked to Daniel Henderson about the Business Partners' Scholarship Program, we were drawn to the concept of engaging talented young students early in their academic lives. We knew we wanted to be part of this program."
The students who have been selected to participate in the Business Partners' Scholarship Program this year include:
Sarah Bushnell: Sarah is a first-year student majoring in Nursing. A Dean's List student, Sarah has a passion for taking care of others in their time of need and is so drawn to nursing. She hopes to combine her patient care education with the administrative or financial side of health care delivery.
Ryan Milewski: Ryan is currently a sophomore majoring in Sustainable Product Design and Innovation at Keene State. He is interested in being a product designer, aspiring to some day work for an athletic products company. He has consistently made Dean's List at Keene State.
Todd Patnaude: Todd is a Dean's List first-year student double majoring in Economics and Management. He started and now runs his own landscaping company. Todd is interested in a career in finance.
Eric Walsh: Eric is a first-year student majoring in Management. At Keene State he works as a sports broadcaster and announcer. He is interested in a marketing and sales management career.
More about the Corporate Relations Program at Keene State College can be found online.
Related Stories