Prof. Waller Named to International Scientific Board in Bosnia and Herzegovina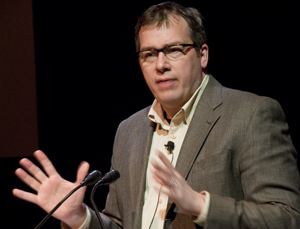 Cohen Professor of Holocaust and Genocide Studies James Waller has been named as part of the International Scientific Board for the 20th commemoration of the Srebrenica genocide, a conference that will be held July 9–11 and sponsored by the University of Sarajevo, the University of Tuzla, and the Srebrenica-Potocari Memorial Center. Dr. Waller will be helping to plan events for the conference, which, as it marks the 20th anniversary, will draw international attention.
On March 18–20, he'll be leading a professional seminar for national genocide and mass atrocity prevention in Sarajevo, under the auspices of his work as Academic Programs Director for the Auschwitz Institute for Peace and Reconciliation (AIPR). On the 21st, he'll offer a seminar for university students. "Both seminars aim to develop a genocide and mass atrocity prevention curriculum for institutions of higher education in Bosnia and Herzegovina," Dr. Waller explained. "Basically, we're hoping to translate the Holocaust and Genocide Studies program we've established at Keene State into a similar curricular initiative in BiH—another great example of how what's happening at KSC is having a global impact."
On April 8–10, also in his role with AIPR, he will be teaming with the US Institute of Peace (USIP) on a three-day genocide and atrocity prevention training program specifically for US government personnel, including members of the State Department, CIA, FBI, and US Agency for International Development. "The seminar is to develop capacity for our national Atrocities Prevention Board and will be held at the USIP building in Washington, DC. This will be our first significant work with US government personnel in this capacity, so it'll be an exciting chance to bring home much of the work we've been doing with government officials around the world," Dr. Waller said.
Related Stories