Giving Tuesday Rocked at KSC!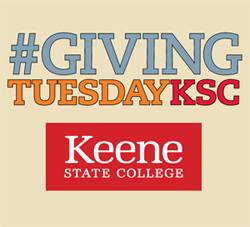 Tuesday, December 2nd, was Giving Tuesday nationwide—a day dedicated to philanthropy, and Annual Giving Director Lori Zaniboni and Assistant Director Lindsay Taflas used the opportunity to great advantage for KSC. The effort raised $26,733.22 from 325 donors—that's $26,733.22 more for our students!
KSC Alumni Board Director at Large, USNH Trustee, and former mayor of Manchester Bob Baines '68 pledged to give $1,000 once the College received 200 donations, and President Anne Huot and Dr. Joanne Cepelak offered another $1,000 when we reached 250 donors. With 325 people chipping in, those challenges were no problem.
"The donations went to 63 different designations ranging from the KSC Fund to the Class of 1961 endowed scholarship," Zaniboni explained. "The largest number of donations (198) went to the KSC Fund, which is used primarily to support scholarships and financial aid. We provided donors the option to designate their donation to any of over 500 funds. Regardless of where the donations went, it has a positive effect on our students. Thank you to everyone who made a donation on Giving Tuesday."
Related Stories